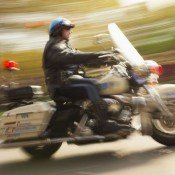 The Jackson Police Department reports an overall decrease in major crimes from April 19 through April 25 in the city. But Assistant Chief Lee Vance is cautious not to attribute the decline to the department's implementation of the High Enforcement and Response Operation, a task force that began April 24.
"The shootings seem to have slowed down," Vance said. "…The shootings could start back up tomorrow, and then what would we say? This is a strategy to combat crime and we are happy that it is slowing down."
Last Friday, Jackson Mayor Harvey Johnson Jr. and Jackson Police Chief Rebecca Coleman announced the formation of the HERO task force at a press conference. The operation is a partnership of the Hinds County Sherriff's Department, Mississippi Bureau of Narcotics, the High Intensity Drug Trafficking Area Task Force, and Jackson Enforcement Teams to combat illegal drug trafficking and related crimes.
Last week total major crimes decreased from 260 to 207.While JPD reported no homicides, grand larcenies are up by 73.3 percent, 15 to 26, compared to 19 at this time last year. Precinct 1 had 53 major crimes this week, down from 76 last week. Precinct 2 major crimes increased from 59 last week to 62 this week. Precinct 3 reported 49 major crimes this week, down from 67 last week and Precinct 4 reported 43 compared to 58 last week.
Addressing the increase of grand larcenies, Deputy Chief Brent Winstead put some of the responsibility on home and car owners. He said that during the summer months citizens tend to leave lawn movers and tools outside and in the back of trucks, where they are easily stolen. Also, vehicle owners leaving their GPS units in plain view is another reason for the increase.