Wednesday, April 28, 2010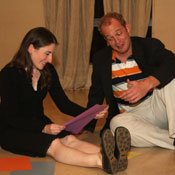 Jean is sitting in a café when she hears a cell phone ring at the next table where a well-dressed man sits in front of a bowl of soup.
"Ring! Ring!"
Jean becomes agitated.
"Ring! Ring!"
Her agitation quickly grows to annoyance.
"Ring! Ring!"
Finally her annoyance gives way to anger as the man makes no attempt to answer his phone. She then discovers that he can't answer it. He's dead.
The next moments are frantic as Jean nervously decides how to handle the situation. After calling 911, Jean decides to wait with the deceased until help arrives. His phone rings again. This time she answers it. "Hello," she says, hesitantly. Jean tells the caller that he's unavailable. She offers to take a message then disconnects.
"It was your mother," she says sadly to the man who she now knows is Gordon Gottlieb. And before she realizes it, Jean is pulled into a stranger's life.
As "Dead Man's Cell Phone" progresses, Jean, played by Lesley Raybon, finds that Gordon Gottlieb is an ominous businessman with an arrogant, stylish mother, an oppressed younger brother, a peculiar mistress and a wife. Jean sets out to bring comfort to them by lying, creating fabricated stories of a Gordon that none of them ever knew. She tells Gordon's mother (Mrs. Gottlieb) that Gordon tried to call her on the day he died, for example, a story that is hard to believe since Gordon and his mother hadn't spoken in a while.
Written by Sarah Ruhl, "Dead Man's Cell Phone" is a comedy about life and death and the role technology plays in connecting the two. It's about how connected we are to our cell phones and how we have moved away from old ways of communicating: face-to-face and letter writing.
"Ruhl does a great job of presenting both sides of the issue," says director Chris Roebuck, who is also the education director at New Stage.
With a cast of six, "Dead Man's Cell Phone" shows how we remember the dead and how even the most reluctant can be drawn into the world of technology. Ruhl's comedy illustrates how much our lives are linked to those tiny devices that can fit into our pockets. The author places Jean, a reticent young woman who admits that she doesn't want to own a cell phone, in an awkward situation where she becomes heir to Gordon's cell phone.
"Jean is similar to me," Raybon says, admitting that she'd probably do the same thing if she were faced with a similar situation. Raybon describes Jean as sentimental, yet she brings forth the wholesome, simple qualities of the character with an effortless grace. "She wants to make everyone feel better," Raybon says.
Clinging tenaciously to the dead man's cell phone, Jean answers it obsessively even during special moments with Dwight, Gordon's brother and her new found love. Jean and Dwight, who is played by Bret Kenyon, find themselves entering into a romantic relationship, which may be destroyed by Gordon's ringing cell phone.
Dwight has spent his life in Gordon's shadow, no doubt from living with an overbearing mother (Mrs. Gottlieb, played by Denise Halbach) who proclaims that Gordon is her only son. The ringing cell phone keeps Dwight in that shadow, even after his brother's death.
"Dwight is kind of pathetic," Kenyon says.
Kenyon is a local writer and actor who breathes life into his broken character. Other than New Stage, Kenyon is involved with several community theaters and has performed on several films screened during the 2010 Crossroads Film Festival.
"It's a great play," says Kimberlee Wolfson, who plays the role of Gordon's mistress. "The mistress is mysterious. She's a difficult character to develop."
Like Kenyon, Wolfson has performed with several local community theaters including Fondren Theatre Workshop and The Center Players.
"Dead Man's Cell Phone" is a timely comedy, complete with lots of laughs, romance and even a glimpse into the surreal.
"Dead Man's Cell Phone" runs Friday, April 30, through Sunday, May 2, at 7:30 p.m. in the Hewes Room at New Stage Theatre. The ticket price is $5 and can only be purchased at the door, cash or check only. For more information about the show and the "Unframed" series, contact Chris Roebuck at 601-94-.3533 ext. 232.