Wednesday, April 28, 2010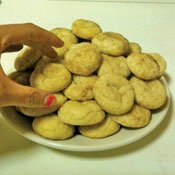 Snickerdoodles are a Branberg family tradition, passed down from my great grandma to my bumpa (the term I coined for my grandpa when I was very young), to my mom and finally to me. Usually, snickerdoodles are made during the winter and served with Russian spice tea, but they're just as tasty all year long.
When I was little, "Jesse, do you want to make snickerdoodles?" were some of my favorite words to hear. Not only did they mean I would get to spend quality time with my mom (my dad would appear when there were cookies on the cooling racks) but there would also be cookies galore in the house. The recipe makes around five dozen, much more than my mom, dad and I could eat at once.
Mom and I would make snickerdoodles mainly in the wintertime, as my mom had done when she was a child. We don't use the heat or air in our house, so baking anything during the summer in Florida is out of the question. During the winter, though, it helped warm parts of the house the wood stove couldn't reach.
I would try to mix all the ingredients together, a job I quickly passed off to mom, but I was always the one to roll the dough in the cinnamon sugar. My mom let me do that because it kept me busy and out of the way, a trick used by many members of the Branberg clan.
When my mom was growing up, she and her two sisters would visit their Grandma Branberg in Rock Island, Ill., during winter break. They lived in a tiny house, so Grandma would make snickerdoodles with the girls in the kitchen to give the grown-ups some time of their own. My mom's favorite parts of the cookie-making process were the rolling and the eating, much like mine.
When my bumpa was growing up, his mom would store big tins (the kind that the holiday trifecta of popcorn comes in) filled with snickerdoodles in the attic of their house. Snickerdoodles still are bumpa's favorite cookie, and as a curious boy with a large appetite, he found them and left nothing but crumbs.
Ever since I moved to Jackson to go to Millsaps College, I've gotten numerous packages from home with enough snickerdoodles for all my friends and me. Freshman year I used my cookie surplus to meet new people. No one says "no" when asked, "Do you want a homemade cookie?" My mom and I also bake them when I'm home for winter break. To me, snickerdoodles are a perfect comfort food and reminder of home.
Grandma Branberg's Snickerdoodles
(makes about 60 cookies)
Cookie Dough:
1 cup soft shortening, part butter
1-1/2 cups, plus 2 tablespoons sugar
2 eggs
2-3/4 cups flour
2 teaspoons cream of tartar
1 teaspoon baking soda
1/4 teaspoon salt
2 teaspoons cinnamon
To make the dough, mix together well the shortening, all but two tablespoons of sugar and the eggs. Sift the flour, cream of tarter, baking soda and salt together, and stir into the shortening mixture. Roll cookie dough into balls the size of small walnuts.
In a separate bowl, mix together the remaining two tablespoons of sugar and the cinnamon. Roll the dough balls in the cinnamon-sugar mixture.
Place dough balls two inches apart on ungreased cookie sheets. Bake at 400 degrees for eight to 10 minutes, until lightly brown but still soft. Watch carefully after seven minutes, because snickerdoodles can burn easily.