Wednesday, April 28, 2010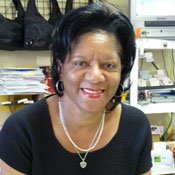 In a gray two-story building off Highway 51 in Ridgeland just below a comic book store sits a shop that celebrates the history of African American fraternities and sororities.
The shop, Oleta's Gifts, Greeks and Baskets (579 Highway 51 N., Ridgeland, 601-856-8886), opened in 2007, and is filled with unique gifts that bear the colors and letters of the "Divine Nine."
Owner Oleta M. Stokes, 57, is a helpful and talkative woman who warmly welcomes you when you enter her store. She takes the time to meet the individual needs of her customers.
Before opening at her current location, she began creating and selling gift baskets in 1996 out of her home. From the gift baskets, she expanded to sell Jackson State University products like stadium seat cushions.
A Philadelphia, Miss., native, Stokes attended Jackson State University where she studied special education. These days, she still sets up a booth at the Mississippi Veterans Memorial Stadium on North State Street to sell her wares during JSU football season.
Stokes comes from a family of business owners: Her parents, now deceased, owned a moving and storage company, grocery store, restaurant and motel in Philadelphia. "I guess it's just kind of in my bloodline," she says. " I love people and I love what I do."
Have you always owned your own business and been your own boss?
When you say a "real entrepreneur," that's me.
My first love was to open up a restaurant because my mother had a restaurant. And that was really my first business dream … in the early '80s. But I decided against that.
How did it come about?
Retiring at age 55 (from the Southern Farm Bureau Life Insurance Company as a service specialist), I didn't think I would open up a business because my thing was to go to work with floral, something dealing with flowers because I enjoy doing that as well.
Tell about your products and services?
We do a Divine Nine Greek line, that's your (African American) sororities and your fraternities, as well as your Masons and Eastern Star. We also carry (Southwestern Athletic Conference) school products, which include Jackson State, Valley State and Alcorn. … We do gift baskets to fit the need of the receiver. We also do T-shirts, choir robes, choir and clergy attire.
How do you set yourself apart from other stores, and why Ridgeland?
Customer service. I wanted to be in a central location to service the needs of many people in the metro area.
Why do you think it's important to have black-owned businesses in the community?
So that we can help promote one another, to put ourselves out there in the business community.
Any advice for others looking to start a business?
You really need to know what you're doing. It's more than a notion. You may walk in and see a business owner or business and say: "Oh that's easy." No, it's not. … You have to make sure it's what you want and do your legwork.
What's the biggest challenge of owning a business?
Advertising. Trying to get the message out that we're here. Our products are kind of unique—the gift baskets, the HBCU products—for where we are located. So just trying to get out in the community, into the area and let them know that we are here, what we do and what we have to offer.
Since this is our Mother's Day issue, can you share with me any special memories of your mom?
I remember going home and buying my momma a gift, that was before people went out to eat and all that stuff. My mother was a hard worker. And whenever we went home, she always wanted to make sure she had fried chicken ready and some type of cake. My mother loved to cook. Growing up I worked late nights with her and she would fry up chicken for us. That's what I remember, things like that.
Hours of Operation
11 a.m. to 6 p.m.,
Monday-Friday
11 a.m. to 4 p.m.
Saturday
Closed Sunday