Wednesday, April 28, 2010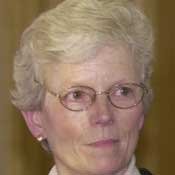 Former state Supreme Court Justice Kay Cobb has suspended her duties as a substitute judge while she organizes the Oxford Tea Party.
Former Mississippi Supreme Court Justice Kay Cobb has raised concerns about politics in the judiciary with her involvement in the newly formed Oxford Tea Party. Cobb, who chairs the Oxford group, recently asked to be temporarily suspended from her duties as a senior status judge, following complaints.
"If I'm active in this leadership, I don't want there to be any appearance of impropriety," Cobb told the Jackson Free Press.
Canon 5 of the state's Code of Judicial Conduct calls for judges to "refrain from inappropriate political activity." That includes contributing to or holding a position in any political organization that works for the election or appointment of candidates for political office. The code makes exceptions, however, for currently serving part-time judges, which includes senior status judges like Cobb, as well as municipal and justice court judges.
"I felt like … as long as I did not use my title, that it would be a part of the exception," Cobb said.
In press releases about its April 17 tax-day rally, the Oxford Tea Party did not include titles for Cobb or other organizers, Cobb said. Still, newspaper reports of the event referred to her judicial role.
"As soon as I heard that, I took the position that I never wanted to do anything that gets close to skirting the issue of propriety," Cobb said. She asked the Supreme Court to temporarily remove her from its list of senior status judges while she serves as chairman of the Oxford Tea Party, a position that she expects to fill for at least a year.
Cobb served on the Supreme Court from 1999 until her retirement in 2007. In the three years she has served as a senior status judge, Cobb heard four cases, one of which is still active. Cobb says she has recused herself from that case.
Before her term on the court, Cobb was a Republican state senator, representing Lafayette and Yalobusha counties from 1992 to 1996.
Cobb's interest in the Tea Party grew with negotiations on federal health-care legislation. After beginning to organize in late 2009, the Tea Party Oxford officially incorporated as a non-profit April 23. "The federal government has just abdicated the whole Tenth Amendment," Cobb said. "They've taken over, telling the states what to do and not paying for it."
Tea Party rallies and protests have drawn criticism from Democrats and commentators, both liberal and conservative, for signs and rhetoric that flirt—and sometimes embrace—racism, xenophobia and secessionism. Cobb said she was aware of the criticism. "We don't endorse that. I cringe when I see those signs," Cobb said. "We're going to keep the tenor high."
Between sign-ups at its April 17 Tax Day rally and other events, the Oxford Tea Party has roused roughly 300 "interested parties," Cobb estimates, although she adds that that may be a conservative estimate.
The Oxford Tea Party welcomes political candidates to events but does not feature them as speakers, Cobb said. For now, the group will also refrain from endorsing candidates.
Previous Comments
ID

157472

Comment

I can't see why the law that rightly restricts normal practicing judges from participating in overtly politically-partisan groups allow for substitutes and part-time judges to do such. To be involved with these groups is an admission that your views are not objective, which is a direct contradiction - especially to this particular occupation. In my opinion, this law is flawed and needs to be rescinded and reintroduced in favor of including ALL judges.

Author

jamesparker

Date

2010-04-28T13:35:36-06:00
ID

157476

Comment

I have absolutely no problem with this judge leaving her post to organize the Oxford tea party; however, Mrs. Cobbs, just DON'T COME BACK. This should be a simple issue to handle because if this judge thinks that she needs to establish a court (tea-court)outside of the chambers of law, then, she should be turned loose and allowed to fly with the other idiots. Palin will have something else to add to her speech. I can hear it now: WE HAVE JUDGE COBBS, ONE MORE PERSON WHO IS CONCERNED ABOUT OBAMA'S BIRTH PLACE AND THAT THIS JUDGE ALSO BELIEVES THAT HE (Obama) IS A SOCIALIST.

Author

justjess

Date

2010-04-28T13:44:55-06:00
ID

157482

Comment

Judges are supposed to be impartial. This woman has proven she is incapable of this.

Author

Lori Kincses

Date

2010-04-28T14:29:07-06:00
ID

157509

Comment

Umm, I'm pretty sure she left. This article is about her decision to leave her post. Plus, she is a "temporary" judge. She already retired and made the right choice. But for anyone to assert that when lawyers take the judicial post, their partisan views fly out the window, is quite nutty.

Author

jbreland

Date

2010-04-29T08:00:14-06:00