Wednesday, April 28, 2010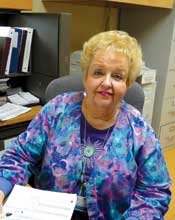 If anyone you know gave birth at Woman's Hospital at River Oaks over the past 25 years, chances are they crossed paths with Betty Fortenberry.
Fortenberry is secretary of the hospital's labor and delivery unit, and she cannot think of anything else she would rather be doing, except maybe spending more time with her seven grandchildren. "I just love babies," Fortenberry says. "The best thing about working here is when a child is born sick and then leaves here healthy and happy, practically waving at me."
Fortenberry has stayed with Woman's Hospital through renovations and countless deliveries. "Working here was difficult at first, before the building remodel. We had open rooms with sheet dividers. One woman would be giving birth on one side and another woman would be losing a baby on the other," she says. "But now, we have private rooms. On any given day, we can have as many as 12 births. The most I can remember being born in a day is 17 babies."
Born in Mendenhall, Fortenberry, 68, moved to Jackson soon after high school to attend dental technician school at the University of Mississippi Medical Center. Her dental technician degree landed her a job in the Banker's Trust Building downtown, where she met and fell in love with a barber, Bobby Fortenberry, who kept shop on the first floor. She and her husband are still married more than 48 years later, and he continues to cut hair to this day.
After having her second son, she left her dental technician job to raise her children, she says, because she didn't want them to grow up without her. "One day, a friend called and asked if I was ready to get out of the house yet. My boys were in school by then, so I figured I could at least work part-time." She worked through 1985 as a part-time secretary at Women's Hospital and went to full-time status a year later.
Being the smiling face at the doors leading to the Labor and Delivery Unit of Woman's Hospital also leads to special recognition. The hospital honored her as Employee of the Year in 2004 and Employee of the Quarter on numerous occasions. Fortenberry says that the only real qualification for her job is to love people. "That, and I never shut my mouth," she says. "I ask everybody everything. It helps to calm folks down."
But don't let her saccharine-sweet persona fool you; Fortenberry is very serious about her job. "In all my years, I've only had to call security on one person, and that's because he was drunk and loudly questioning the baby's paternity," she says.
As far as retiring, Fortenberry says that she plans to stick around, if only on a part-time basis. "I love it here; everyone is so dedicated," Fortenberry says. "We are just one big family."