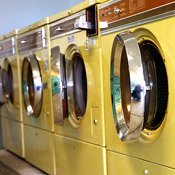 Con "Cowboy" Maloney, co-owner of the only local electronic and appliance dealership, Cowboy Maloney's Electric City, says the new State Energy Efficient Appliance Rebate Program is a boon to the local economy.
Maloney's Electric City opened at midnight last Thursday to accommodate the large volume of customers who took part in the program, which offers rebates ranging from $50 to $750 for ENERGY STAR certified appliances.
"(On Friday) we had the biggest sales day in the history of our company. That's 58 years," Maloney said. "By noon, we had done more appliance business than we would do in a normal day."
The Environmental Protection Agency grants the ENERGY STAR label to products that function efficiently and contribute to energy savings. ENERGY STAR also promises that while the products might cost more than regular appliances, consumers will recover the difference through utility-bill savings.
The state received $2.8 million from the American Recovery and Reinvestment Act for the rebate program that ends when funds run out. The Mississippi Development Authority is administering the program and partnering with more than 250 retailers. As of today $1,701,662 of the original $2.8 million in funding remains.
Melissa Medley, MDA director of communications and marketing said that the program was designed to boost the state's economy. Medley said that Mississippi took a different approach than other states by allowing consumers to register for the rebate after they bought the appliance.
"Some states allowed pre-registration of the money, which led to the money being accounted for within several hours of their programs opening," Medley said. "Many of those people didn't actually buy an appliance, so it took a while to sift through the applications to find out who actually did purchase one. It also allows us and anyone who is interested to track how much money is left to go toward rebates."
Maloney said that his company is focused on making sure that their customers get the most out of this new program.
"One big thing that we're doing is putting a computer in the store so that they can register at the time of purchase. It's not difficult to apply, but it's like tying a tie. It's difficult if you've never done it before, but once you get the hang of it, it's easy," Maloney said. "Since it's so new, it's been a little bit more difficult for people to understand. We actually have been doing the application for customers to make it even easier."
Rebates only apply to ENERGY STAR-labeled products. To find out the appliances that qualify, or to register for a rebate call 1-877-304-4451 or go online. Appliances eligible for the rebate include freezers, refrigerators, dishwashers, central air conditioners, various water heaters and gas furnaces.