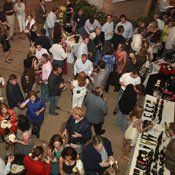 Start the weekend with a thought-provoking evening. Tonight at 7:30 p.m., head to Fondren and the Rainbow plaza for a screening of "Crude: The Real Price of Oil," at Rainbow's dinner-and-a-movie event. Tickets start at $13. For a live performance, consider the J-Lee Productions' play, "Revenge." at 8 p.m., at Jackson State. Tickets are $20 and $30. Where's the best place to look for events? Start on the JFP Best Bets page.
For the younger fisherpersons out there, get to bed early tonight so you can be bright-eyed for the JPS Fishing Rodeo that kicks off at 7:30 a.m. Saturday. At 8:30 a.m., head to Renaissance in Ridgeland for the three-mile March for Babies, with proceeds benefiting the March of Dimes. Saturday night, Jackson has numerous offerings, from the Sante South Premier Wine Event at 7 p.m. to Cedric the Entertainer at 8 p.m. Get information for these Saturday events and much, much more by clicking over to the JFP Events Calendar.
When you're in the mood for music, the JFP Music Listings offer the most complete calendar in town. Among Saturday's options, you'll find the blues at Underground 119, Irish tunes at Fenian's, funk at The Auditorium, and hip-hop at Cultural Expressions. But don't stop there. The listings give you at least two dozen other choices.
And what better time than the weekend for a good meal that you don't have to cook or clean up after. If you haven't perused the JFP Restaurant Listings and the Menu Guide, yet, I'll bet you'll find some great ideas for breakfast, brunch, lunch and dinner.
Don't forget the JFP Gallery Listings when you're searching for that perfect mother's day or graduation gift.
Is something missing? To make sure your event is listed on the JFP calendars, send the information to [e-mail missing] or [e-mail missing], or add your event yourself. It's easy!