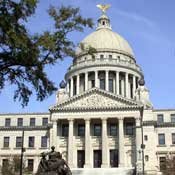 The Mississippi Senate Finance Committee yesterday defeated a bill proposing to extend unemployment benefits to citizens who have less than six-to-12 months on the job, reports NEMS360.com. Currently, the state calculates benefit eligibility using the first four of five quarters of the calendar year preceding an unemployment claim, and workers need to have worked at least two of those quarters.
The measure would have allowed the state to access an additional $18 million in federal stimulus money to fund what supporters said would cost the state $14 million annually and benefit about 6,500 workers, mostly with low-incomes.
Opponents of the bill countered the argument by implying employers would have a higher tax rate after the stimulus were used up. The Finance Committee killed the bill 13 to 9, NEMS360.com states.