Wednesday, April 21, 2010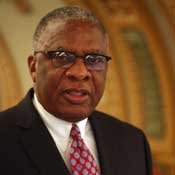 The Mississippi Legislature was back in action April 20 to approve a $5.5 billion fiscal-year 2011 budget and the re-authorization of the Mississippi Department of Employment Security.
The Legislature abandoned the Capitol in March to sit out what looked to be an impasse over the budget and MDES, spurred by disagreements over how much to tap budget reserves to cover shortfalls, and how much to change state unemployment law to increase the state's eligibility for stimulus money.
Legislators also took the break hoping that the U.S. Congress would approve up to $188 million in federal stimulus money for the state, allowing legislators to steer the new money quickly into ailing state coffers. House and Senate leaders have not budgeted to include the $188 million in the fiscal year 2011 budget, since Congress has yet to approve the stimulus funds. However, lawmakers say they would like to plan for a $110 million contingency should the federal funds come through after state legislators approve the budget.
House Banking and Financial Services Chairman Rep. George Flaggs, D-Vicksburg, said the $5.5 billion fiscal-year 2011 budget is already in the bag.
"I was in the room when the House and Senate (negotiators) made an agreement," said Flaggs, who preferred the state to draw upon more reserves to fill budget holes in the 2011 budget. "Having to cut $112 million out of this year's budget really hurt, but given that revenues are still progressing up very slowly, it's probably the best budget we can get under the circumstances."
House Medicaid Chairman Rep. Dirk Dedeaux, D-Perkinston, said he was unhappy about the shape the budget took through House and Senate negotiations, but admitted he could not see how the budget could have fared any better considering the state's economic troubles. He added, however, that he was still stinging from a $14 million deficit in Medicaid for fiscal year 2010 resulting from a $14 million transfer from Medicaid to other state programs.
"We're dealing with 2011, but I'm still concerned with the 2010 Medicaid deficit. We've got money in the tobacco trust fund that could be used to offset those cuts, but the governor and the Senate don't seem open to using that money," Dedeaux said.
Medicaid Executive Director Robert Robinson blamed the Legislature in early April for a cut in the Medicaid reimbursement rate to health-care providers, because of a $14 million diversion courtesy of SB 2495.
Flaggs said the House and Senate could just as easily be ready to settle the unfinished MDES matter when they get back. More Mississippians could also qualify for unemployment insurance if the House and Senate agree on a bill the House passed last month. Legislators say the Senate and Gov. Haley Barbour—who Democrats claim holds sway over Senate leaders—may be willing to approve the bill re-authorizing the Mississippi Department of Employment Security while drawing down more federal stimulus money.
In March, Barbour and House Democrats disagreed on Mississippi's requirements for citizens to qualify for unemployment insurance. Mississippians must work more than six months to meet unemployment insurance requirements and can only seek full-time work while unemployed. Under the current law, only about 24 people out of 100 unemployed state residents qualify for unemployment money. Democrats want state law changed to allow more citizens to qualify and give the state access to $56 million in federal stimulus money. But Barbour argues that any change in state unemployment law commits the state to more costs in what could prove to be a long era of budget shortfalls.
Reps. Cecil Brown, D-Jackson, and Flaggs say Barbour is willing to allow, through the Senate, a House bill removing the six-month holding period before an employee may qualify for unemployment insurance, allowing the state to draw down $21 million of the $56 million in federal stimulus funds.
To qualify for the entire $56 million, legislators must change state law to allow job hunters to seek part-time employment, instead of restricting their search to full-time employment. Currently, unemployed part-timers qualify for unemployment benefits if they worked more than six months at their last job and claim they are seeking full-time work. This eligibility requirement rules out many single parents who cannot seek full-time employment because of family demands. Barbour was unwilling to make that concession in February, and House members say the Senate is still unwilling to bend on that item.
Before their departure, Legislators in both chambers managed to pass HB 160, a law allowing some first-time offenders to expunge their non-violent convictions. They also passed HB 1309, which strengthens state laws against stalking and adopted SB 2015, which requires schools to impose anti-bullying policies.