Wednesday, April 21, 2010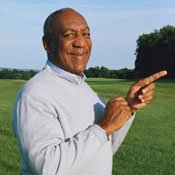 If you're a die-hard fan of stand-up comedy, you may have heard of an obscure actor/comedian by the name of Bill Cosby. This promising upstart from Philadelphia, Pa., will perform at Pearl River Resort Saturday, April 24.
Here's hoping this guy can make a name for himself someday. Show business is brutal, Mr. Cosby. Just make sure you have something to fall back on.
Actually, Cosby, 72, is known for his role as Dr. Heathcliff Huxtable on the Emmy-winning "Cosby Show," which he created in 1984. He currently does stand-up comedy and makes public appearances. Cosby also plays the drums and bass guitar.
How is stand-up different today than it was earlier in your career?
When I started, there were no comedy clubs. The comedian--if not a name draw--would be the automatic opener for a star-draw singer. So you could have a big name person like Harry Belafonte, and the opening act would be Godfrey Cambridge.
There were levels of clubs. In my day there were folk clubs, and it would be the comic and the folk group. (There would be) huge lines around the block for folk singers who were also doing shows in halls--2,100-seaters.
You do profanity, and the police come. In that time, Lenny Bruce was the Don Quixote of all of this.
You've been doing this for a long time. Does performing live still excite you?
Suppose I was really tired of it, it would probably show up in my performance, I think. I don't think a tired performer can really hide it, because part of performing what they call "live" has to do with a connection with you and the person sitting offstage. No matter what you do ... if you're tired of what you're doing, it's going to show up eventually. After 48 years, I have things that come to mind that I am excited about sharing.
What is your advice for a stand-up comedian just starting out?
Make a commitment to writing. Make a commitment to making sure that what you feel is funny is described to the listener and viewer in a way that they can see, feel and smell exactly what you are talking about. Just take in as many comedians as you can.
You're a jazz aficionado. What kind of music do you find yourself listening to these days?
There's a young lady that I think the world has to see. Her name is Lizz Wright. I advise the reader to go to her first-ever CD and look at the songs she wrote. She has been trying to evolve and I think now, nine years later, she is as powerful and should be seen.
She performed in Philadelphia about two weeks ago with the Philadelphia Symphony. This is not an opera; I'm talking about Nina Simone and Odetta. ... Looking at this woman--she's not even 30--she's powerful. Her words, especially the songs she's written, I just think they're youthful, that they can bring together all of us. There's no disconnect. It's that strength and power combination from a singer who can translate the voice--the words--to the audience.
Do you get to play very much?
Once a year (at the) Playboy Jazz Festival, I play one set: 55 minutes. And I think about the up-and-coming gig all year long.
A hot topic in Mississippi education and policy has been bullying. What responsibility do parents and educators to the kids being bullied?
Let's put the parents up there first. Parenting is a lifelong career. The things you make mistakes on ... the things you ignore, you pay for. You cannot allow yourself to hand your child over to a box or a computer, and expect your child to understand love, friendship, correct behavior, honesty and character. You, along with perhaps your parents and your other relatives, happen to be the people who have the most strength in guiding this child upstream against the rapids, so that he or she does not stop in the middle of the road of life.
Schools are not supposed to raise your children, but schools also ought not lay down tremendous hurdles, i.e. overpopulated classrooms, i.e. teachers who have been pounded and beaten by the system. It's up to you to make sure that child is in school. It's up to you to meet that human being called a teacher, so you know ... for that six hours who your child is with.
What about the kids doing the bullying? What responsibility do schools have to those children?
Very simple: You bring them in, and you bring in the parents, if the parents will come. And you sit, and you have an educated talk about the trouble, the problem, and see if said child really intends to hurt.
And then, if the kid does, then the kid and the parents have to meet with some kind of awareness counseling. If that fails, then the kid has to meet with some kind of psychologist, along with the parents.
Bill Cosby will perform a stand-up comedy routine April 24 at 6 p.m. and 9 p.m. at the Pearl River Resort in Choctaw, Miss. For tickets, call 1-866-44PEARL.