Wednesday, April 21, 2010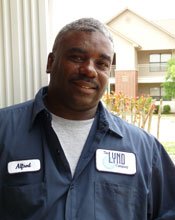 On any given day during a week, you can find Alfred Jacobs, 46, walking the halls of Bradley Elementary School. Jacobs is not the principal or even a paid administrator at the school; he is an involved parent.
"It is important to me that the children see me at all times of the day around the school," Jacobs says. "Because there are so many single mothers with children in Jackson Public Schools, this shows them that a male cares about their future."
Jacobs is president of Bradley's Parent Teacher Association. In addition to being one of the few male PTA presidents in the district, Jacobs doesn't have children that attend the school.
"I just want to be there for my kids as a role model and someone they can look up to," he says. When Jacobs speaks of his "kids," he is speaking about the three children he has with his wife of 22 years, Velma, and of every child in the JPS system. His children, Corey, 22, Alfred Jr., 13, and Kourtlyn, 12, all attended or currently attend other Jackson schools.
"A kid's elementary educational foundations do not need to have cracks. They need to be prepared when they go 
on to middle school, and a solid foundation is important," the life-long Jacksonian explains.
Jacobs, who works as a service technician at Chapel Ridge Apartments in Jackson, has successfully implemented the Public Broadcasting Systems Rising Readers Program at Bradley. Popular PBS shows such as "Sesame Street" and "The Electric Company" provide the children's lesson plans for the computer-based program.
He also obtained a Mississippi Public Broadcasting grant, which provided funding for the computer that runs the program. The grant also funds a corner in the library dedicated solely to the Rising Readers Program--the first space of its kind in the district that gives kids a separate area where they can relax and learn how to read.
"It is a literacy program which helps improve the kids' comprehension. We have the corner ready with the computer and chairs. The only element left is for the software to be downloaded by the IT department, which should be in a couple of weeks," Jacobs says.
With anticipated budget cuts district-wide, this program will assist in filling any gaps that may arise in education. Jacobs sees his work going beyond Bradley. "My goal is to have the Rising Readers program with library corners in every elementary school in JPS," he says.
Previous Comments
ID

157333

Comment

Kudos to Mr. Jacobs. Having a cozy, inviting place to read is one of the best ways to encourage kids to pick up books. Wonderful that he'd like to get library corners in every school in JPS.

Author

melia.dicker

Date

2010-04-21T11:57:33-06:00
ID

157337

Comment

Amazing! Keep up the good work.

Author

Meredith

Date

2010-04-21T12:14:48-06:00