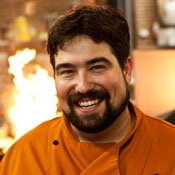 Nathan Glenn Leaves Auditorium
Local celebrity chef and entrepreneur Nathan Glenn told the Jackson Free Press last week that he will no longer be The Auditorium's general manager. Instead, chef Nate Ballard will take over as the new general manager. Glenn will continue to co-own The Auditorium but said he will focus on operations at Basil's in Fondren, which he also owns. Next month, he will unveil his new website, Glennfoods.com, to promote all area Basil's Restaurants and the new Congress Street Bar and Grill--all owned by family members.
"It's going to be a website that ties all the restaurants together and shows everyone the connection," he says." We will also feature an employee of the week and events going on downtown."
New Fondren Nail Studio Opens
Last month, Jackson native Kila Milner, 29, opened her own nail salon, Polish, at 3111 N. State St. next to Butterfly Yoga. The studio offers full manicures and pedicures. Milner decided to open her first business with the support of her mother Alma Motley, who owns Dream Beads. "It's awesome being in Fondren, I'm a lover of Jackson and wouldn't want to be anywhere else to grow my own business," she says.
Polish is open Monday through Friday from 8 a.m. to 6 p.m. by appointment only. Call 601-953-2184 to schedule an appointment.
Young Professionals Learn From Leaders
Potential young entrepreneurs have an opportunity to learn from other Jackson business leaders this Thursday at the YP Alliance's monthly panel discussion. The YP Alliance is the Greater Jackson Chamber Partnership's young professionals group. Speakers at Thursday's discussion will include restaurateur Jeff Good, Jackson Chamber of Commerce Chairman Jonathan Lee and Envision Eye Care owner Dr. Tonyatta Hairston. The luncheon is at noon at the Electric Building (308 E. Pearl St.) on the seventh floor. $10 lunch, $7 lunch for members; e-mail [e-mail missing] to RSVP.
Business Owners and Health Care
The Chamber Partnership is also hosting an event for members on April 28 to educate business owners about recent federal health-care legislation. The luncheon, at the Old Capitol Inn, will feature Dr. Clay Hays, a Jackson cardiologist; Dr. Tom Fenter, corporate advisor for Blue Cross & Blue Shield of Mississippi; attorney Eddie Brunini; and Ron Aldridge, Mississippi state director for the National Federation of Independent Business. The speakers will describe how and when the health-care bill will affect businesses.
The luncheon is at 11:30 a.m. at the Old Capitol Inn in Jackson. The cost of the luncheon is $25 for chamber members and $30 for non-members. RSVP by calling Debi Green at 601-948-7575 or e-mail [e-mail missing].
Al Stamps Opens New Burger Joint
Jackson burger maven Al Stamps has opened a second venture, Burgers & Blues, in Ridgeland. Unlike Cool Al's, his namesake Jamaican-themed restaurant on McWillie Drive, Burgers & Blues serves beer and features flat-screen TVs. Stamps and co-owner Steve Sahler have installed a 3,000 square-foot hardwood deck in front of the restaurant, which will host live music every week.
The menu will feature traditional and veggie burgers, along with some new additions like a pimento cheese burger and a "Peanut Butter Lovers'" burger.
Burgers & Blues, 1060 E. County Line Road, Ridgeland, 601-899-0038. Open Sunday-Thursday, 11 a.m. to 9 p.m.; Fri.-Sat., 11 a.m. to midnight.