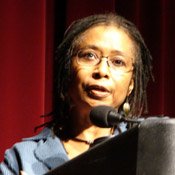 Long before Alice Walker wrote "The Color Purple," she made her mark on Jackson as a civil rights and women's activist.
A native of Eatonon, Ga., Walker moved to Jackson in 1966 after graduating from Sarah Lawrence College in New York. In Jackson, she registered black voters and promoted welfare programs for the Legal Defense Fund of the National Association for the Advancement of Colored People. She also held various teaching positions and became a writer-in-residence at Tougaloo College and Jackson State University.
Walker's experiences in the South, especially her interracial marriage to Mel Leventhal, a Jewish civil right's lawyer, put her at the center of racial controversy. Walker wrote her first book of poetry while in college, and her professor, historian Walter Zinn, influenced her ideas. Walker and Leventhal later divorced, and she moved to California where she still lives today.
In 1982, Walker wrote "The Color Purple," a book about a woman named Celie, a poor, uneducated, young black woman in Georgia in the 1930s, who is raped at 14 years old and forced to marry an abusive husband. Walker became the first black woman to win a Pulitzer Prize in Fiction for the book in 1983, and "The Color Purple" is on the the American Library Association's list of "The 100 Most Frequently Challenged Books of 1990-1999, for exploring themes of racism and human sexuality."
Walker, now 60, has written six novels and several volumes of poetry and short stories. Her work explores themes of racial injustice, economic hardship, and the role of African Americans and women, particularly in the South.
A performance of "The Color Purple," the Broadway musical, is at Thalia Mara Hall tonight and Wednesday at 7:30 p.m. For ticket info, call 601-960-1537.