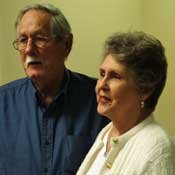 Heather Spencer's legacy lives on to protect Mississippi women who are the victims of domestic violence. Spencer's family and friends organized the non-profit Heather's T.R.E.E. shortly after George Bell III murdered her in September 2007, with the purpose of training, providing resources, educating and empowering women in the state.
At a press conference this morning, Anna Crump of the Mississippi Coalition Against Domestic Violence and Mary Ann Kirby of Heather's T.R.E.E. announced the Heather's Hope mini-grant program that will help women escape their abusers. The program provides up $600 annually to each of the state's 12 women's shelters to give women immediate funds in times of need.
"Upon a victim entering a shelter, there's a short turnaround time for victims to apply for emergency cash, which, if I'm not mistaken, is the only program of its kind in the system," Kirby said.
Women often break free their abusers with little to no resources, The Heather's Hope mini-grants are intended to provide just enough cushion to keep women from needing to return to a violent situation.
"It may enable her to buy a bus ticket to Arizona," Kirby said. "It may enable her to, for her children, pay an emergency tuition, to buy a cell phone, (make an) apartment deposit--anything that it takes to allow her to sustain independently. If a woman's been brave enough to leave ... we don't want (her) to be trapped, financially."
The funds will be administered through the MCADV with a 24 to 48-hour turnaround, Kirby said, adding that the grants will grow as Heather's T.R.E.E. receives additional funding.
"How wonderful would it be to have $10,000 or $20,000 available sitting in a pot for these women?" Kirby asked.
The announcement came in conjunction with National Crime Victims' Rights Week, Crump said, which began April 18 and ends April 24.
"This is the 26th year, and the coalition has been a part of it every year," Crump said, adding: "Mississippi has been rated second in the nation for domestic violence incidents and fifth for domestic violence homicides." She acknowledged, however, that those statistics are merely a snapshot, because so much domestic abuse goes unreported.
Spencer's grandparents, Jay and Mary Henley, who were in attendance during this morning's news conference, acknowledged the difference that the two organizations are making in their granddaughter's name.
"We were talking in my kitchen about a month before she was killed ... and she said, 'Grams, I want to do something different with my life,'" Mary Henley said. "It's been a horrible experience to go through. We miss her so much. ... I think Heather would be pleased over this."