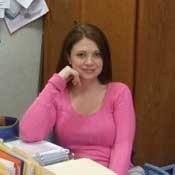 When one of Meaghan Johnson's second-grade students told her she had never painted before during a recent art project, Johnson says she realized the importance of providing students with creative opportunities to try new things.
Johnson, 32, is a teacher at Green Elementary school and committee member for Ask 4 More Arts, a program formed with a 2005 grant from the Ford Foundation to provide Jackson Public Schools students with more opportunities to learn through the arts.
As a committee member, Johnson has played a vital role in promoting and planning art projects for Green Elementary. As part of the program's theme "Community, A Sense of Place," the second-grade students at her school learned how to play instruments and made a music video about their community with help from local musician Gisele Gentry.
The works of Green Elementary students and others from 23 JPS schools that participated in Ask 4 More Art's jumpsART program, are currently on display downtown at the Mississippi Arts Center. The exhibit also includes photographs, mosaics, pottery and paintings by JPS students.
Johnson, a native of Canada who grew up in Starkville, says the program provides an innovative teaching method.
"One of the most important things is that the students started thinking about their community and what makes up a community," she says, "They were so excited ... and it's a great way to build their confidence. They are only in second grade and get to have their artwork in a museum."
Johnson says several community partners have come together to make jumpsART a successful program. She highlights the efforts of Parents For Public Schools, a non-profit education advocacy organization, that hosts professional-development workshops on ways teachers can incorporate art into lesson plans.
"Everyone learns in a different way," she says. "Some people learn by listening, some by seeing and some by doing. To have different learning opportunities really helps those who might not understand it in a (traditional) way."
Johnson has a bachelor's degree in communications from Mississippi State University and a master's degree in education from Belhaven University. She has taught at Green Elementary School for the past four years.
The exhibit "JumpsART, Our Community A Sense of Place," runs through April 30 at the Mississippi Arts Center (201 E. Pascagoula St.). For more information, call 601-960-1500.