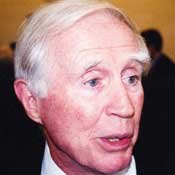 Bill Minor grew up moving around Louisiana during the Great Depression so his dad could find work as a printer with the Works Progress Administration. Minor, 87, went on to become one of the most influential journalists during the Civil Rights Era, covering the Emmett Till trial, the murders of three civil rights workers--James Chaney, Andrew Goodman and Michael Schwerner--in Neshoba County during the freedom summer in 1964 and the lynching of Mack Charles Parker in 1959.
Today, Jackson State University's Fannie Lou Hamer Center is honoring Minor with a 2010 Humanitarian Award for giving a voice to those who didn't have one during the Civil Rights Era. The Humanitarian Award honors individuals and organizations that have demonstrated services and leadership in pursuit of social, economic, political, and environmental justice and equality.
Minor's interest in journalism began in high school during the 1930s with the New Orleans Times-Picayune's Biggest News of the Week contest, which was open to high schools students in Mississippi and Louisiana. Minor recalls submitting news articles and having the opportunity to be published weekly. The winners received points and also cash prizes, an extra incentive during the Great Depression.
"I was the high point man for the Bogalusa High School, so we won the biggest news competition for two semesters in a row," Minor recalls. "It clicked with me and I decided I was going to study journalism, and that was going to be my career track."
Minor graduated from Tulane with a degree in journalism in 1943. After graduation, he served in the US Navy, and spent two years in the Pacific during World War II. In 1947, he took a job with the Times-Picayune's Mississippi bureau, located in Jackson.
"I was supposed to be covering politics and state legislature and government," says Minor. "We had no idea that the Civil Rights Movement would burst out in 10 years as the primary store. No indication at all back then."
When the Times-Picayune closed their Mississippi bureau 30 years later in the late 1960s, Minor took retirement from them and began editing and publishing The Capitol Reporter, an alternative newspaper. His focus also began to shift more towards investigative reporting. Night riders and segregationists frequently attacked the Capitol Reporter office, smashing windows, firing Nazi army rifle shells and burning a cross.
"We raised a lot of hell and we were the first investigative reporting that was ever done in Jackson," he says.
Previous Comments
ID

157280

Comment

Minor is an outstanding man who has done so much to help move Mississippi forward. Yet so many Mississippians strangely hate him and adore Lott, Eastland, Bilbo and the likes. When will we become ready for prime time?

Author

Walt

Date

2010-04-16T16:46:25-06:00
ID

157284

Comment

Hat's off to Mr. Minor.

Author

Meredith

Date

2010-04-16T18:17:54-06:00
ID

157286

Comment

I agree with Walt. It's amazing how some other blogs go all wonkers everytime his name is brought up.

Author

prentiss reeves

Date

2010-04-17T07:22:25-06:00
ID

157287

Comment

Back in the mid-70s, Bill Minor's newspaper was one of the first sources that I (as a teenager) came across that presented a different way of looking at Jackson and Mississippi, especially compared to the Clarion-Ledger. I learned a lot from it. Thank you, Mr. Minor, and congratulations on the award!

Author

Susan T.

Date

2010-04-17T09:02:23-06:00
ID

157294

Comment

The paper was called The Capital Reporter, Susan. I'm glad you remember it.

Author

ed inman

Date

2010-04-18T22:26:30-06:00