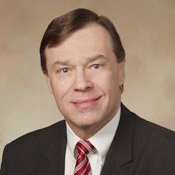 The American Bar Association is a sore topic for Jackson attorney Michael Wallace, who is now representing Mississippi in a multi-state lawsuit against health-care reform.
In 2006, President George W. Bush appointed Wallace to serve as a fifth-circuit court judge but Wallace later withdrew his nomination as criticism mounted. An investigation by the ABA's Standing Committee on Federal Judiciary concluded that Wallace was "not qualified" for the position because of his unwillingness or inability to separate his personal beliefs from his professional obligations.
"I've responded to that (criticism) under oath, before a judicial committee," Wallace told the Jackson Free Press Today. "I've said everything I needed to say."
A report by the government-watchdog group People For The American Way, cites examples of Wallace's advocacy of "far-right" issues and attempted undermining of civil-rights laws. Wallace has represented the Mississippi Republican Party in several voting-rights disputes. In a 2000 case, he argued that the state should create at-large districts for congressional races that would have dissolved the state's only majority African American district.
The ABA investigation reports that lawyers raised concerns over Wallace's position, claiming that he ignored the precedent set by the 1984 Voting Rights Act. In the investigation, lawyers claimed that Wallace was so "entrenched in his own personal views that they did not believe he could put them aside and fairly follow the law."
Wallace, 58, has agreed to represent the state free of charge. He referred questions about the constitutionality of health-care reform to Gov. Haley Barbour's office.
"The governor asked me to be available and advise him," he said. "I don't have any other plans but to serve my state."
Wallace is a partner at the Wise, Carter, Child & Caraway law firm in Jackson. He received his bachelor's degree in government from Harvard University in 1973 and his law degree from The University of Virginia in 1976.