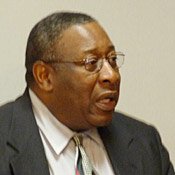 The Jackson Medical Mall Foundation has several large economic-development projects pending, but Hinds County appears unable to support them, for the moment. Primus Wheeler, executive director for the foundation, asked the county Board of Supervisors at a work session this morning for $1.8 million to support an expansion on the Medical Mall's northern end. The Board has already allocated $2 million in bonds that would be its most likely source of funding, to another project.
"I'm afraid you may be too late," Supervisor Doug Anderson told Wheeler.
At the Feb. 16 board meeting, supervisors voted to award $2 million in federal Recovery Zone facility bonds to the LEAD Group, LLC, a Jackson-based firm developing a Sleep Inn on Gallatin Street. They also agreed to award $1.76 million from the same bond fund to a developer willing to renovate the Mississippi Valley Title Building. The county has not secured a buyer for the building, however, and Supervisor Peggy Calhoun suggested that the Board could reallocate the $1.76 million incentive to the J.M.M.
Wheeler told the Jackson Free Press that he had been unaware of the Board's decisions to allocate the stimulus bonds.
The proposed $2.6 million facility, to be located on Melvin Bender drive, would house American Medical Response, a Medical Mall tenant since 1997. AMR has outgrown its current space, Wheeler said, and has received offers of cheap facilities elsewhere in the city. Assistance from the county would allow the Foundation to offer a lower rent of around $12.50 per square foot, Wheeler said.
"It is totally designed, and it is shovel-ready," Wheeler told supervisors. "We just need to wrap up the financing structure. It just makes the rent much more affordable if you add some support to it."
The Medical Mall Foundation also has two upcoming projects that do not require county assistance. One, the Homewood Heights subdivision, is slated to break ground no later than July, Wheeler said. The residential development consists of 25 single-family homes, located east of the Medical Mall, around Williamson and Prosperity streets. The Foundation is financing the project with stimulus funds and plans to complete it within two years.
The Foundation is also planning for construction of a Save-a-Lot grocery store across from the Medical Mall near Trustmark Bank. The $3 million project, which will later incorporate a Fred's Dollar store and a pharmacy, will use traditional financing and New Markets Tax Credits, Wheeler said. Wheeler expects construction to begin in October and finish between 90 and 120 days later. The store could generate $7.8 million in annual revenue, Wheeler said.
The grocery store will be an extension of the Medical Mall's mission, offering fresh produce to a neighborhood that has limited access to it.
"It's all in line with first lady (Michelle Obama)'s initiative--trying to reduce grocery store deserts and getting people nutritional alternatives," Kelli Sharpe, the Foundation's development director, said. "We love our fast foods that are in the area, but you don't want it to become an everyday lifestyle."
Previous Comments
ID

157257

Comment

Good job Jackson

Author

NewJackson

Date

2010-04-15T13:25:22-06:00
ID

157259

Comment

It's amazing on the lack of grocery stores in such a wide area.

Author

golden eagle

Date

2010-04-15T14:37:07-06:00
ID

157261

Comment

Clarification, golden: it wouldn't be the only grocery store within six miles of the Medical Mall. (McDade's in Fondren and Belhaven, among others, are closer than that). The six-mile figure came from Primus Wheeler, and I'm contacting the Medical Mall for a more accurate figure. I'll add a correction when I get it. In the meantime, I've dropped the number from the story.

Author

Ward Schaefer

Date

2010-04-15T16:06:45-06:00