Wednesday, April 14, 2010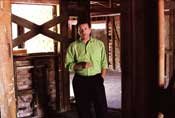 Lacey McLaughlin
When it comes witnessing tragedies and historic events, journalists are often the ones in the crosshairs. But the perception that journalists are tough as nails isn't always true. After Hurricane Katrina destroyed the Gulf Coast, television anchorman Mike Walter created the documentary "Breaking News, Breaking Down," to show how catastrophic events take a toll on journalists.
Walter tells his story of how his own experiences covering Sept. 11, 2001, affected his life and sent him spiraling into depression. Walter spent several months after the attack covering stories of victims and their loss. The constant grief and loss he encountered was almost too much to bear. Walter ended up seeking treatment, but his experience compelled him to raise awareness about the issue.
Walter's personal story is just a small part of this 36-minute documentary. He focuses on New Orleans Times Picayune reporters who not only covered Hurricane Katrina, but also had their own homes and lives devastated by the storm. Walter spends time with a group of journalists who come together to help rebuild their colleague's homes.
The documentary also focuses on Pulitzer Prize winning photojournalist John McCusker, who photographed the flood-ravaged streets of New Orleans for the Times Picayune after the storm. McCusker, who suffered from post-traumatic stress disorder, led police officers on a high-speed chase after learning his insurance would not cover the cost to rebuild his home. The reason he led police on a chase, McCusker said, was his hope that they would shoot him to death.
"Breaking News" is an important documentary to educate and remind the public that the people who deliver the news are the one's whose stories are often overlooked.
The screening of "Breaking News, Breaking Down," is Saturday, April 17, at 3:35 p.m.