Wednesday, April 14, 2010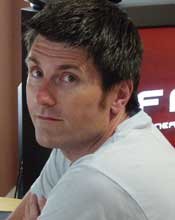 When Philip Scarborough was a child, he watched "HBO's Behind the Scenes: Raider's of the Lost Ark," and decided to become a filmmaker. Scarborough's parents bought him a Super 8 camera when he was 11, and he has captured stories ever since.
In his naturally lit studio in his Belhaven home, Scarborough, 38, shared some of his early work--home videos, an attempt at claymation with a character called Mr. Clay when he was 12 and a surrealist experimental series he filmed at 17 titled "Sandwich."
"I love visually telling a story, I guess that's what it really boils down to," Scarborough says. "There's so much technique that goes into filmmaking: It's writing, but it's also lights and sound and editing."
Scarborough's dedication to film brought the Jackson native back to Mississippi. He moved to Dothan, Ala., in 1992 when he was 3, but returned to attend film school at the University of Southern Mississippi.
"I wasn't there to play around," Scarborough recalls about USM.
After graduation, Scarborough moved to Jackson to work at Imageworks, one of the largest film production companies in the region. After attending film festivals in Austin, Texas and New York City, Scarborough wondered why Jackson couldn't have one of its own.
He and a group of friends from film school organized the USM Student Film Showcase in 1998. The showcase was well received, so the group organized the Jackson Filmmaker Showcase and the Mississippi Filmmaker Showcase. In 2000, they founded Crossroads Film Festival to foster further filmmaking in Mississippi.
"Because of technology and the Internet, you can be wherever you live, make a film and distribute it to the world," he says.
"Tell the stories that are at your fingertips. When I was younger, I thought I was going to move to L.A. ... In the end, if you just want to make movies, if you just want to tell stories, then why do you have to go somewhere else to do that?"
Scarborough started freelancing as a filmmaker in 2004, and works mainly on television commercials. In his free time, he works on his own short and feature films. Scarborough is now the technical director of Crossroads, and he owns his own film production company, Lathe Productions.
The filmmaker says he wants to prove the world wrong about its impression of Mississippi. "I don't want to just entertain, I want to make people have something to talk about," he says. "I want to make films that people can watch again and again and get something different out of every time."