Wednesday, April 14, 2010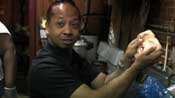 "Smokes and Ears," directed by Joe York of Oxford, is a 26-minute documentary tells the story about the Big Apple Inn on Farish Street, and its speciality sandwich. Also known as "Big John's," the small restaurant's trademarks are two sandwiches: the Smoke, a spicy ground-sausage sandwich about the size of a Krystal's burger, and the Pig's Ear sandwich.
Bet you'll never guess what that's made from.
I'll admit that I gagged a little when I first saw a small child devouring a boiled pig's ear slapped on a bun. But by the end of the film, I was craving one.
Local history begins to bleed into the narrative as the film's explains the sandwich origins and ingredients. We learn that the Big Apple was a safe house for planning political strategy during the Civil Rights Movement. We discover that the restaurant was built by a young immigrant who started out selling hot tamales on the street corner, and that the price of a Pig's Ear sandwich has only gone up approximately a penny a year since their introduction (current price: $1.05). While local Butchers gave the pigs' ears to the restaurant free of charge, the price of ears has gone up due to their current use as a popular dog's chew toy.
York, on staff at the University of Mississippi Media and Documentary Projects Center, not only shoots and edits the documentary so well that it looks like a History Channel feature, but he manages to use a local delicacy to tell the story of Jackson's glory days.
The Southern Food Alliance produced the documentary. Dubbed by the Atlantic Monthly as "this country's most intellectually engaged (and probably most engaging) food society, the SFA attempts to tell a locale's history by exploring the roots of its unique cuisine.
I wish more films could do what this film does—find a unique device to tell the history of home. The past few decades have been unkind to Farish Street, but the popularity and stream of musical legends that passed through that place made me wish I could have spent a day there in its prime. Who needs a Bourbon Street or a Beale Street when you have something like this?
The film left me inspired to hold out hope that Jackson can one day regain some of what it once had. In the end, it's not a documentary about some far away place or people you'll never meet in a lifetime; it's a documentary about our backyard.
The screening of "Smokes and Ears" is Saturday, April 17, at 3 p.m.