Wednesday, April 14, 2010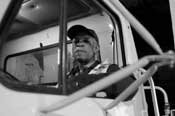 When we hear stories of the Civil Rights Movement, we often think of the struggles of Dr. Martin Luther King Jr. or James Meredith. But one of the most powerful and unheard stories is that of African American sanitation workers in Memphis during that time period.
"I am a Man. From Memphis. A Lesson In Life" is a 30-minute documentary that tells the struggles of Elmore Nickelberry and other sanitation workers. Nickelberry, 70, still makes his rounds as a garbage truck driver down Memphis' Beale Street.
Racial violence and discrimination was rampant in Memphis during the 1960s. The city's sanitation workers, who were all African Americans, earned a mere $5.49 for a day's worth of work. In the first few minutes of the film, sanitation workers are brought to tears as they discuss the conditions they endured, like coming home from work covered with maggots and waste. When two employees died after the back of a garbage truck malfunctioned and crushed them, workers went on strike to demand better conditions and pay. On April 3, 1968, King was assassinated when he came to Memphis to support the strike.
Nickelberry and 1,300 other workers risked their lives and their family's livelihood by going on strike, but bravely stood together holding signs that read: "I am a Man." Their efforts eventually led to better work conditions and pensions.
The documentary also highlight's Nickelberry's recent trips to elementary schools where he shares his story with younger generations. This short documentary is an inspiring story that demonstrates the power of determined group of men.
The screening of "I am a Man. From Memphis. A Lesson Learned." is Sunday, April 17, at 1 p.m.
Previous Comments
ID

157278

Comment

I think I've seen this film before. Thank God Memphis isn't what it once was when lumbermen, cotton planters, railroad tycoons and plantations owners ruled the day. God bless the sanitation workers who bust their chops to make an honest living. Dr. King didn't die in vain.

Author

Walt

Date

2010-04-16T16:26:50-06:00