Wednesday, April 14, 2010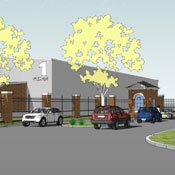 When young filmmakers think of places to start their future careers, cities like New York or Los Angeles usually top their lists. But a 36,000-square-foot film studio in Canton—slated to open this spring—could make Mississippi a more desirable location for film and television production.
The Mississippi Film Studios @ Canton, located on 5.8 acres outside the Canton Square, will be the first film studio in the state built from the ground up. Jo Ann Gordon, executive director of the Canton Convention and Visitor's Bureau, has spent the last 20 years promoting Canton as a location for the film industry. She has worked at the bureau during filming of "A Time to Kill," "My Dog Skip" and "O Brother Where Art Thou?"
"It's one of the best industries that the state of Mississippi can embrace," she said. "It provides job creation, work-force training and education. It comprises every great component for economic development."
Nick Smerigan is the founder of RoadTown Enterprises, the Los Angeles-based firm that is managing the studio. He said the studio will provide opportunities for filmmakers so that they don't have to leave the state. RoadTown will be in charge of marketing the studio to potential producers and overseeing the construction.
"Mississippi has incredible locations for filming," Smerigan said. "The historic architecture makes Jackson a great city, shooting wise. There are incredible locations up and down the state."
Smerigan said that the production studio will allow for more non-specific location shoots. "What is a lake in Mississippi can be a lake in up-state New York," he said. "The trick is to bring the professional infrastructure. … When other film companies spread the word that Mississippi is open for business, it's going to become a great location in the long term. "
The film studio will create 25 to 30 permanent jobs and employ as many as 150 to 250 employees when film production is underway. In 1996, after the filming of "A Time to Kill," Warner Bros. Studio donated the original stage to the city's convention bureau, which will now be renovated to complete the studio.
Gordon said the studio complements the Mississippi Development Authority's Mississippi Motion Picture Incentive Program, a measure the state Legislature passed six years ago that returns a portion of a companies' expenses incurred in the state while producing a motion picture.