Wednesday, April 14, 2010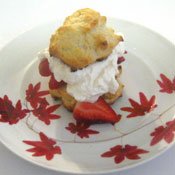 The Bradford pear trees have finally announced the arrival of spring. For my husband, Mason, and me, this means it's time to open up the windows, forgo the soups and stews of winter, and enjoy refreshing springtime recipes. Like any newlywed couple on a budget, we are always looking for fun and creative ways to eat and spend time together without over-spending.
If you are planning a date with your sweetheart, why not cook appetizing food at home as a way to save money and have a lot of fun? Turn on music, relax and enjoy the process as fragrant smells fill your kitchen in preparation for a romantic meal.
Here's a tip: Cook together. Even if your significant other is no good at whipping, measuring, or determining doneness, ingredients always need chopping, and dishes always need washing.
For a tasty dinner or picnic, try the simple chicken salad recipe. Although its ingredients are minimal and the process is easy, Mason and I enjoyed its unique flavor.
As a special dessert, the strawberry shortcake is all the more delectable with the rum-and-vanilla whipped cream. It adds a tropical flair to this springtime treat. (A word on quality ingredients: It really is worth the few extra dollars to purchase authentic vanilla extract. It tastes so much better than any imitation flavor.)
Budgeting money doesn't mean you have to cut back on romance, or even good food.
Katie Stewart, nee Shelt, was a "Hitched" bride in the JFP Volume 8, Issue 13, dated January 10, 2010.
Strawberry Daiquiri Shortcake
Serves 2-3
Shortcake:
2 cups all-purpose flour
1 teaspoon salt
1-1/2 tablespoons sugar (This recipe has a subtle sweet flavor; if you would prefer it sweeter, add another tablespoon of sugar.)
3 teaspoons baking powder
4 tablespoons shortening
3/4 cup milk
1-1/2 teaspoons vanilla extract
1 tablespoon butter, melted
Preheat the oven to 425 degrees. Mix flour, salt, sugar and baking powder in a large bowl. Cut in shortening using a pastry cutter. Once shortening is combined with the dry ingredients, add milk and vanilla extract. Stir, scraping the sides of the bowl, until the mixture reaches the consistency of dough.
Form the dough into a ball and remove from bowl. Place on a floured surface and knead, folding eight to 10 times. Separate the dough into biscuit-sized portions and place about two inches apart on an ungreased cookie sheet. Brush the tops of the shortcakes with melted butter.
Bake for 15 minutes. Ovens vary, so be sure the shortcakes are golden brown on top, but not burned on the bottom. Remove them from the cookie sheet and cool until they reach room temperature.
Filling:
1 cup heavy whipping cream
1 tablespoon sugar
1 teaspoon rum
1 teaspoon vanilla extract
8 ripe strawberries
For perfect whipped cream, chill the bowl you'll use ahead of time. Whip the cream, sugar, rum and vanilla until stiff peaks form. If you don't have a mixer, it can be done by hand with a whisk, although you'll have to be prepared for an arm workout.
Slice the strawberries. Depending on their sweetness, you may want to add an extra dash of sugar. Serve the cream and strawberries between two shortcakes, or one sliced in half.
Curry Chicken Salad
Serves 2
3 chicken breasts
Dash salt
Dash pepper
2 tablespoons olive oil
1/2 cup mayonnaise
1 celery rib, chopped
1/3 cup chopped pecans
1 teaspoon curry powder
1/3 cup sweetened dried cranberries or raisins (optional)
Place the chicken breasts in a baking pan. Coat them with salt, pepper and olive oil. Bake for 30 minutes at 350 degrees. Remove chicken from pan and chill.
Cut the chicken into bite-size pieces. Mix with mayonnaise, celery, pecans, curry powder, cranberries or raisins. (Some people prefer more or less mayonnaise, so feel free to use your judgment.)
Add salt to taste.
I served the salad on a romaine lettuce leaf, and we accompanied it with naan, an Indian fried flatbread. The salad would also be delicious on a sandwich or even with crackers. A glass of white wine or a flavorful beer would be its perfect complement.
Music for Cooking Up Romance
No date is complete without music. Here's an eclectic playlist for your cooking adventures:
"More Than a Feeling" by Boston
"My Spirit of Adventure" by Michael Giaccomo (Up soundtrack)
"You Make Me Feel So Young" by Frank Sinatra
"You and I" by Ingrid Michaelson
"Night and Day" by Ella Fitzgerald
"Goodnight and Go" by Imogen Heap
"Do You Remember" by Jack Johnson
"Forever Young" by Alphaville
"I Can't Stop Loving You" by Ray Charles
"Two" by Ryan Adams
"You Are the Best Thing"by Ray Lamontagne
"The Nearness of You" by Norah Jones