Wednesday, April 14, 2010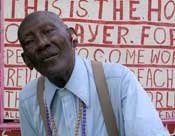 "God's Architects" is a documentary that explores the works of five self-appointed architects who cite a higher power as the reason for constructing their environments.
Filmmaker Zachary Godshall spent three years documenting the works of artists like 92-year-old Rev. H.D. Dennis from Vicksburg, who transformed his wife Margaret's Highway 61 grocery store into a colorful brick maze of archways and signs pronouncing God's love. He also transformed the inside of an old school bus into a small chapel complete with a pulpit and pews. He uses his creation as a way to minister to others who pass through. A newspaper article hangs inside the store, with a quote from Dennis that reads: "God is the greatest architect, I am only his assistant."
One of the most compelling artists is Leonard Knight who painted an entire side of a mountain, adding the message "God is Love." When Knight's hot-air balloon crashed in the desert of Southern California in 1984, he took it as a sign that God wanted him to stay there and work with his hands. Since then he has made his home in the desert, surviving by donations from supporters. Knight compares himself to a modern-day King Solomon, who asked God for wisdom and knowledge so he could build Jerusalem's first temple. Knight's creation includes a three-story round structure made with adobe covered hay bales and painted to include birds and waterfalls.
Godshall also explores the work of Shelby Ravellette, who built a stone castle in the Ozark Mountains of Missouri to honor the memory of his deceased daughter Lacey Michele. The castle, reminiscent of medieval architecture, has been Ravellete's work in progress for more than 20 years.
As each artist reveals the motivation behind his work, they speak of the need to fulfill a greater life purpose. They have each dedicated their entire lives to building these structures to inspire others. All humble men, they teach us that the greatest treasures are created out of passion and perseverance instead of profit and fame.
The screening of " God's Architects " is Saturday, April 17, at 1:20 p.m.