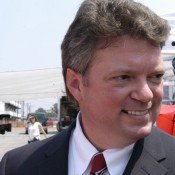 Mississippi Attorney General Jim Hood is not taking action to join a multi-state lawsuit against recently passed federal health-care reform legislation. In a letter sent to Gov. Haley Barbour on Friday and released to the press, Hood advised the governor that because the issues raised can only be decided by the U.S. Supreme Court "there is no hurry to join the suit," and that it would be cheaper for Mississippi to wait. "In law and in life, the old maxim 'haste makes waste' still applies."
Hood also told the Barbour that if he still feels "compelled to take action," he should do so on behalf of the governor's office and "in your own name."
"Our office will decide what actions to take on behalf of the interests of the people of the State of Mississippi after conducting a due diligence review of the subsequent filings," Hood wrote. "Our office takes no position on the propriety of the health insurance reform act. Our decisions are made on the dry law, not economic or political expediency.
On Friday, Republican Lt. Gov. Phil Bryant joined a separate lawsuit challenging the new legislation acting as a private citizen.
Read Hood's letter to Barbour
Read the supporting memorandum
Previous Comments
ID

157198

Comment

I applaud this decision. In my opinion it shows leadership over partisan obstructionism. Well done AG Hood.

Author

Jeffery R

Date

2010-04-13T09:46:38-06:00
ID

157201

Comment

This is the thrid time I have tried to submit my blog. Is anyone else having trouble? My hat goes off to AG. Hood for his position on this issue. When President Obama was elected, Barbour wanted to join some other hate-filled politicians to challenge the constitutionality of his election, stating that President Obama was not a citizen. Next, he is tryiing to joing nine other governors in filing suite against the President's Health Care Reform Bill and stating that it, too, is unconstitutional. Now, he has jumped out of the skillet into the frying pan by stating on a National Press interview, "slavery ain't about diddley." Saying that "slavery ain't about diddley" is paralled to denying the harm and hurtful effects and atrocities of the genocidal slaughter of Jews by the Nazis during World War II. It wasn't enough that the Gov. of Virginia had already apologized for his omission of slavery as THE causal factor in the Civil War and deliberately leaving it out of the proclamation written for his month long celebration of the Civil War. Barbour, in my opinion, felt honored to pick up his torch and spew this kind of hate-filled verbage onto Blacks here is this State (many of whome voted for him). There are also Whites who are embarrassed and desire to see something other than this coming from a so-called leader. Dr. Martin Luther King said the following: "NOTHING IN ALL THE WORLD IS MORE DANGEROUS THAN SINCERE IGNORANCE AND CONSCIENTIOUS STUPIDITY." I'm sure if he were alive today this quote would include:...and. SINCERE HATRED AND A DISRESPECT FOR THOSE PEOPLE YOU ARE ELECTED TO SERVE.....

Author

justjess

Date

2010-04-13T11:01:57-06:00
ID

157208

Comment

I applaud Hood's decision, too. It's too much of a waste of time. If Barbour would use his mind towards something worthwhile (like education or creating jobs), think how much better off we'd be. If he wants to sue, he needs to do so with his own personal funds and not taxpayer funds. Speaking of which, I'm going to send in the tax money I owe the state tomorrow and if he uses as much as one penny towards a lawsuit, I will demand all of it back!

Author

golden eagle

Date

2010-04-13T13:41:48-06:00