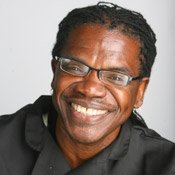 Chef and Jackson native Larry Love wants to provide people with knowledge on how a raw-food diet can extend their life span through his 30-year culinary expertise and experience. Love is hosting a raw-food tasting event this month to promote Liquid Light Cafe, a Web site where clients can order live-food delivery services, event catering and obtain recipes.
Raw food, or "live-food," is usually organic foods that are unprocessed and uncooked. One of Love's favorite dishes is Anatolian-style lasagna. "This is a crowd pleaser," Love says. The lasagna consists of alternating layers of zucchini noodles, savory portobello mushrooms, and marinara sauce filled with almond ricotta cheese and garnished by baby spinach.
Love, 54, became a vegetarian when he was 19-years-old after reading Dick Gregory's "Natural Diet for Folks Who Eat: Cookin' with Mother Nature." "This is where my journey originally started with eating raw foods," Love says. In his book, Gregory asks readers to put themselves in the place of the animals that they are eating. "This is a personal choice, but who is to say we have the right to eat them, they have a right to live," Love says, who now only eats raw food.
Love's formal training in live-food cuisine came under the direction of master chef Mehmet Ak of Cousin's Live Eatery Emporium and Education Center in Chicago.
"When I got (to school), I knew that was the place for me to be. It may not have been my immediate destination, but instead a revelation for my life," he says.
Love wants to provide the public with the freshest produce possible by constructing a commercial kitchen on in his backyard. "My kitchen is surrounded by my garden, so I'll be harvesting much of the produce that I'll be using to prepare food that day," he says.
Love says his ultimate goal is to open Mississippi's first raw-food restaurant within the next year.
Love is also a certified nutrition and wellness counselor and sports nutrition consultant. "My goal is to help clients achieve optimum health and well-being," he says.
Chef Love and his helpers will introduce 16 new items for participants to taste at La Salsa Dance Studio at 303 Mitchell St., April 25 at 6 p.m. to 9 p.m. Admission is $15. "This is designed for the curious or the relative newcomer to the live-food lifestyle," he says.
On May 15 Love will release his Web site, liquidlightcafe.com. Photographs from the food-tasting event will be used on the site.
Do you know a Jacksonian or Mississippian who should be the JFP Person of the Day? Briefly tell us his or her story, sending it to [e-mail missing]. Please include contact information and a picture, if possible.
Previous Comments
ID

157205

Comment

This is great! I love the idea of the restaurant with a garden out back.

Author

andi

Date

2010-04-13T13:06:04-06:00