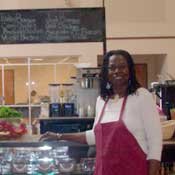 When Sameerah Muhammad was walking through the Jackson Medical Mall last summer, she craved a smoothie to accompany her morning workout. "I saw that there were different vending stands, but there wasn't a fresh fruit smoothie bar," she says. Less than two months later, Muhammad's urge was satisfied when she opened Bottoms Up Fresh Fruit Smoothie Bar.
Bottoms Up specializes in smoothies and other health food items. Muhammad, 61, has been in the restaurant business for more than 30 years, and says every restaurant she owned had a "healthy twist" to it. She says that the smoothie bar's location fits in with the Medical Mall's mission of providing health and wellness services to the community. Smoothies are one way to combat the state's high rates of diabetes, high blood pressure, cancer and obesity.
"It's really an opportunity for people to eat healthy. (Smoothies) taste good and allow your body to lose the weight," she says. "It creates an opportunity to introduce people to different taste. Some people have never had mango, or kiwi or blueberries."
Muhammad, a Jackson native, says her 91-year-old mother has maintained a healthy lifestyle and her diet includes fresh fruit smoothies. "Your health is your wealth. Your health is an opportunity for you to take control of your life and do progressive things. It's just an alternative way of thinking," Muhammad says.
Strawberry, banana and mango are among the most popular smoothies at Bottoms Up. "The main ingredient we put in our smoothies is love," she says. "People leave saying, 'This is the best smoothie I have ever tasted.'
Muhammad gives credit to Bottoms Up manager Paege Fuller, 24, for helping with the success of the smoothie bar.
Bottoms Up Smoothie Bar, located at 350 W. Woodrow Wilson Ave., is open Monday through Friday from 7:30 a.m. to 4 p.m. For more information call 601-982-3004.