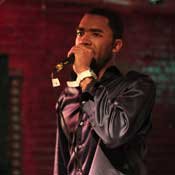 On a crowded stage with a six-piece band jamming behind him, AJC, clad in a black vest and tie, jumps up and down. The black and white crowd at Hal & Mal's Red Room lingers near the stage, moving, shaking and shuffling to the drummer's beat. AJC signals the band with his right hand, cueing the musicians into the second verse, as he raps a verse from "The Battle of Success."
"Executives count the money from the lies that they sold,
As the accountants run and hide because their cover was blown,
Americans figured out that you reap what you sew,
And hurry to tell the real seamstress get back to their post."
Adam Jerelll Collier transforms from a bank teller in Madison by day to the charismatic, energetic Jackson hip-hopper AJC of the Envelope Pushers by night. His reason for playing music is to bring people together.
"Mississippi is one of the worst when it comes to black and white people afraid to get together," AJC says. "It's not a black or white thing, it's a music thing. We're supposed to support each other; that's what God would want us to do. That's how humanity should do it."
AJC believes Jackson has a long way to go before the city's local music scene becomes a truly integrated society.
"When I first hit the white, Caucasian crowd, they accepted me with open arms. But we've had some trouble with the black community," AJC says. "I'm not afraid to say it, but a lot of our black artists here in Jackson just don't support each other."
Collier says the Jackson music scene is colloquially referred to as "the crab bucket."
"It's people not just stepping on each other, but snapping at each others' ankles, trying to pull them down for whatever reason," he says. "That was a lot of what I went through when I first hit the scene, but it wasn't enough to make us want to quit.
"It's like, 'I've gotta get it before you, and if you've got it, then I'm jealous," AJC says.
Now, the 25-year-old rapper says, Jackson is undergoing a cultural renaissance, where young, new, up-and-coming musicians and artists make it a point to support each other.
"I got to Fondren, and met all these people with these new sounds," he says. "I called the band, and said, 'I think this is where we need to launch from into Jackson.'"
Giving credit to Fondren talent like Lizzie Wright of The Bachelorettes, Collier says the Fondren scene expanded into the city's mainstream bars and restaurants after performing in venues like Seven Studios/Cultural Expressions, the Eudora Welty Commons, North Midtown Arts Center, Flood's Bar and Grill, and Sneaky Beans.
"We just kind of formed our own music scene. We support each other. If 200 people are at my show, the same 200 people are going to be at their show," AJC says. "We just turned our music into a loving community ... no matter what, we were going to be with each other."
The Envelope Pushers formed just over a year ago, incorporating an array of musical genres and influences into AJC's rapping.
The seven-piece ensemble includes Jerrell Moore on keys, Gerald Morgan on saxophone, Nashville resident Chris Wheeler on lead guitar, Keefe Pennymon on percussion and AJC's longtime best friend Frank White on drums. The lead singer and MC says the finishing touch was the addition of Brandon Jackson on bass guitar.
"He's one of the best bass players I ever had. I mean, he can even play lead guitar with a bass. This dude is killer," AJC says.
Still fresh to Jackson's live music scene, Adam Jerrell Collier and the Envelope Pushers performed their first official show of 2010 in Hal & Mal's Red Room in early March after a six-month hiatus. He says each performance is a unique event that he and his band are overwhelmingly thankful for.
The Envelope Pushers treat the audience to a spectacle of a jam-packed stage led by the formidably enthusiastic AJC, who sweats through the entire show, jumping and dancing and shouting.
"I'm not thinking about anything. At the end of the night, I'm like, 'OK, I wonder what happened, because I'm just in a zone where nothing matters," he says. "I kind of let my heart, my soul and the adrenaline just get in there and mix up together, and we just do it."
While seeing the potential for Jackson's music scene to become as vibrant and active as Austin or Philadelphia, AJC says it will likely be later than sooner. Before fans will come out to enjoy local music, he believes, local music communities first have to unite and believe in each other.
"We're going to keep supporting people who don't support us, and we're going to keep on supporting people who do support us," AJC says. "Just because."
Adam James Collier and the Envelope Pushers will perform in Hal & Mal's Big Room in May. To see upcoming shows and hear songs visit AJC's Web site at myspace.com/musicbyajc.
Previous Comments
ID

157121

Comment

Keep on doing what you do, AJC.

Author

Scott Albert Johnson

Date

2010-04-07T13:02:31-06:00