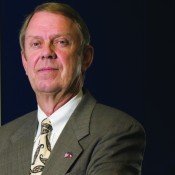 Allstate has submitted its request for a home-owner rate increase on more than 50,000 Mississippi homes because of higher expenses in the state.
Allstate spokeswoman Allison Hatcher said the company filed to increase home-owner rates in the Allstate Property and Casualty Insurance Company by 44 percent and homeowner rates in the Allstate Indemnity Company by 25 percent to keep pace with the rising cost of doing business.
"We're continuing to see an increase in the number of claims and the costs associated with paying claims throughout the state," Hatcher said. "There continues to be an increase in the number of non-model catastrophes—home fires, home burglaries, water damage and liability claims—in Mississippi."
Mississippi Insurance Commissioner Mike Chaney said he has no intention of approving the 44 percent rate-increase.
"They're not getting 44 percent out of me. The court might give it to them, but they're not getting it from me," Chaney said last week.
If Chaney follows through, the company could protest his rate-increase refusal at a commission hearing or file a suit in Hinds County Chancery Court. But Chaney said he felt confident he had a good argument for the judge.
"What makes Mississippi so much more risky? We've got better fire protection than many other states. We're making it hard for the insurance companies to justify their rate increases," Chaney said.
This is not the first refusal the company has gotten out of Chaney. Allstate requested a 65.1 percent statewide rate increase last December, but Chaney said he nixed the request Jan. 6.
Sen. David Baria, D-Bay St. Louis—a coastal resident and frequent insurance-industry critic since the 2005 damage of Hurricane Katrina—said earlier this year that he suspected some insurance companies were attempting to price themselves out of the Mississippi market by raising rates to intolerable levels.
"If they pull out and home-owners can't get insurance and businesses can't get insurance, you're going to see the recovery on the coast take a whole lot longer," Baria told the Jackson Free Press in February. "You don't build without insurance."
Despite the state's need for home-owner insurance, Mississippi and its comparatively low population constitutes a small proportion of Allstate's nationwide customer base. Chaney said his rate-increase denials could prompt the company into moving its business out of the state, but he added that pulling out would not be as easy for any company thanks to the state forging a kind of influence pool with neighboring states.
"I'm working with all the other commissioners in the South. We all work together to bolster our influence with the insurance companies. We're sticking together, so you're seeing some changes in the way we do business," Chaney said. "And if they move on, we can replace them."
The Allstate rate-increase request, aimed specifically at Mississippi home insurance in this case, follows a national trend of insurance companies requesting rate increases for home and health insurance. Anthem Blue Cross made news in February after word got out of the company seeking to raise health-insurance premiums on some California customers by 39 percent on March 1. The rate increase stirred argument in the debate leading up to the March passage of health-care reform, and prompted Department of Health and Human Services Secretary Kathleen Sebelius to write a letter to the company, demanding detailed justification for the increases.
Sebelius and Democrats in Washington exploited the rate increases and successfully pushed for the passage of reform, in March.
Anthem Blue Cross issued a February response to Sebelius, blaming the rate increase on the tanking economy and "fewer people, often with significantly greater medical needs, in the insured pool."
But the profits of Anthem Blue Cross' parent company, WellPoint Inc., soared in 2010, even without the rate increases the company requested. The company earned $2.7 billion in the last quarter of 2009, and quarterly sales went from $15.1 billion to $19 billion—a 26 percent increase.
Allstate, the largest publicly traded U.S. home and auto insurer, reported a better-than-expected fourth-quarter profit in February. Total revenues for the fourth quarter of 2009 were $8.1 billion, an increase of 22.7 percent from the fourth quarter of 2008. Operating income rose to $592 million from $518 million a year ago.