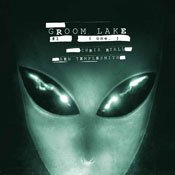 They're out there—the aliens. You may not want to believe, but I have seen proof. It's all there in black and white, and myriad shades of gray, in "Groom Lake" (IDW Publishing, 2009, $19.99), written by Chris Ryall ("Zombies Versus Robots") with art by the inimitable Ben Templesmith ("30 Days of Night," "Wormwood: Gentleman Corpse" and "Conluvio").
This project started out as a fairly straightforward science-fiction story, according to Ryall, that had been rolling around in his head for five or so years. It wasn't until Templesmith showed him early sketches that he saw the comedic potential. Thankfully, Ryall had the good sense to enlist Templesmith to do the art on this book, the comedy is all the better for it.
Played straight, this tale would be just another variation of the "The X Files" laid out for much of current sci-fi. Yet, it falls more along the lines of "Men In Black" meets "The Hitchhiker's Guide to the Galaxy."
In "Groom Lake," finally, the long-term cover-up of Area 51 gets blown wide open, thanks in no small part to average, ordinary hillbilly Karl Bauer and his new pals from the secret underground base where the government houses some of our stranger tourists.
Even if you don't believe in little men from outer space, don't let that deter you from one of the funniest additions to alien lore. Ryall pulls out all the stops in this tour de farce. Virtually every trope of science fiction movies gets turned on its head by the end of the tale.
At heart, Groom Lake is a buddy comedy—perhaps the kookiest take on that theme in the history of odd couples. The aforementioned Karl Bauer meets a colorful cast of 1950s era sci-fi monsters, including a rampaging giant robot bent on man's destruction who speaks in binary code, a couple of blobs reminiscent of the one that gave Steve McQueen so much trouble and an archetypal gray alien. You know the type: little, gray, big glassy-black eyes, prone to probing and cattle mutilation. Except this grey, named Archibald, is more concerned with smoking, chocolate and human copulation. He finds it all amusing. The little guy is one of the funnier characters to grace a science fiction story in a while: endearingly innocent and completely warped at the same time. Think E.T. on peyote.
It isn't long before Arch and Karl form a friendship, and if you ever find yourself teamed up with an alien of questionable sanity, well, just sit back and enjoy the ride; he probably knows what he is doing. Probably.
The government agency responsible for all of these otherworldly shenanigans wears the black hat in "Groom Lake," and they have less than honorable plans for poor hapless Karl Bauer. They also have the most jaded staff you're likely to come across since your last visit to a fast food drive-thru. Apparently hanging around with aliens all day will do that to you.
Exceptionally cynical is Roberta Lazar, ("I told you. ... I just don't give a sh*t"), who plays tour guide to Karl and introduces him to this menagerie of misfits. Roberta's nonplussed, ho-hum indifference toward her job—despite its bizarre nature—and life instantly gains Karl's awkward affections. Watching him fumble through romantic overtures with Roberta is painfully funny. You'll find yourself hoping he gets the girl, or any girl.
But this is a buddy comedy, after all, and it isn't long before Karl and Archibald take their act on the road, so to speak. Informed that the world is brimming with sex, chocolate and cigarettes (Karl cites Paris as an example of all three in one place), Archibald excitedly wants to see all this. "Smoke sex smoke sex smoke sex chocolate," he says.
Of course, you don't just waltz out of a top-secret government base for a little sightseeing; you have to have a hastily concocted plan of escape that wreaks potential havoc. How else are you going to get to a chase scene involving fighter jets, robot invasion forces, and probably the end of the world? Besides, what girl wouldn't be impressed by a guy in a flying saucer on the run from nefarious agencies charged with keeping all this under wraps from an unsuspecting public? Not to worry, though, because "Archibald has a plan!"
After a chase scene worthy of any sci-fi movie blockbuster, readers are treated to a spectacularly silly ending that manages to tie up a loose end you never sees coming. Just remember, if you encounter little gray men, just give 'em a smoke or some chocolate.
Templesmith's extremely loose, scratchy, monochromatic images work to give the story an unreal, otherworldly feel. If you aren't familiar with his work he is a singular trailblazer in the field of comics. Templesmith turns comic-book convention on its head with scrawly, intuitive drawings melded with a bit of Photoshop to create images that are dreamlike in execution, but somewhat nightmarish in context. Eschewing the four color mandate of most comics, his washed monochrome style delivers more evocation than the best DC or Marvel have to offer. As a testament to his vision, Templesmith is starting to see trend-hopping imitators spring up in his wake.
Find "Groom Lake" at these local comic book shops: Action Island (601-856-1789), Van's Comics and Cards (601-898-9950) or Heroes and Dreams (601-922-3100).