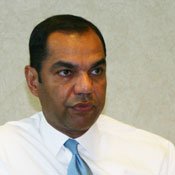 Daniel McMullen would be difficult to pick out of a police line-up. It's hard to determine McMullen's age and race, and although he's the special agent in charge of the FBI's Jackson division since September 2009, he keeps a low profile.
As Jackson's special agent McMullen said he oversees the FBI's efforts to combat terrorism.
"We're here to protect this country from threats," said McMullen, speaking to reporters last week. "Protection is still the FBI's top priority."
Previously, McMullen, 46, worked for the FBI in Washington, D.C., were he served as supervisory special agent in the Information Resources Division at FBI Headquarters. He also served as special agent in charge for criminal matters in Los Angeles in March 2008 until his transfer to Jackson last September.
"I had a lot to do with that decision," McMullen said, who is the first African American to head the Jackson division. "You may not think it, but the top priority of the FBI, even in Mississippi, is still terrorism."
The state offers a fair amount of investigations into criminal activity, such as mortgage and bankruptcy fraud, but McMullen says the state also supplies a fair amount of investigative work into potential terrorism and domestic terrorism plots.
"The FBI doesn't stop at investigations into plots happening right here in the state--and we do have some good targets for terrorism here in the state--but some aspects of a terrorism investigation in another state may share a link here in Mississippi," he said.
McMullen would not offer any details into the FBI's list of ongoing terrorist investigations. He admitted, however, that the number of leads on domestic terrorism the FBI is following has not increased since President Barack Obama took office. McMullen's information comes as a surprise considering the Secret Service reported an average 30 death threats a day against the president last August--an increase of 400 percent over those against President George Bush.