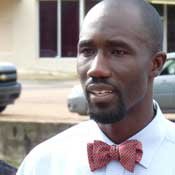 The Jackson City Council is focusing on south Jackson development by addressing concerns about rent-to-own leases and approving the city's purchase of property at Metrocenter Mall.
During yesterday's work session, Ward 6 Councilman Tony Yarber told city council members he's getting nervous about the growth of more 15-year lease homes in his ward.
"I'm constantly getting phone calls from south Jackson voters complaining about the saturation of south Jackson with housing that features a 15-year lease program," said Yarber of two existing South Jackson neighborhoods containing homes allowing long-time lease-holders the option to buy their homes after paying a lease for 15 years.
South Jackson already contains the Timber Falls and Forest Hills Place neighborhoods that offer 15-year leases with an option to buy, both averaging 150 homes. But neighbors are complaining that Mississippi Home Corporation is supplying tax credits for similar neighborhoods, Valley Park and Jericho Subdivisions, for the same type of leases.
"That to me is single-family rental," Phyllis Louie, president of the Lake Catherine Homeowner's Association, said. "This 15-year lease program amounts to rental property, since occupants can dump their home at any time over the course of the 15-year lease."
Louie said renters do not have the same sense of community found in mortgage owners who must guard the price of their home. She argued that the transient nature of home occupants could discourage occupants' desire to keep the homes repaired, which could drag down their neighbors' home prices.
Bill Bynum, CEO of ECD/HOPE, a credit union that provides home financing options for low-income buyers in the state, rejected Louie's assessment.
"Rental property plays an important role for people who cannot afford or who desire not to be owners," Bynum said. "In our part of the market, and in several parts of Jackson, more than 75 percent of the population are renters. You can't just throw-out an entire segment of the population and say these are bad people. That would be an egregious overstatement."
Louie said she was disappointed by the council's inability to stave off the construction of Timber Falls and Forest Hill Place. "These kinds of developments don't happen in Clinton, or Flowood, or Pearl, but our council allows it to happen here. It's like they don't care about the value of our hard-earned property values."
Yarber, while slow to criticize the city's need for quality, reasonably priced housing, complained that the new subdivisions are within a mile of the similar 15-year-lease homes near Forest Hill.
"At some point somebody's got to say enough is enough, because we're going to start looking like some kind of housing project," Yarber said. "I'm in favor of affordable homes, but I'm also in favor of people who actually invest in their homes. I know there's nothing we can do about the homes that are already there, but I want to make sure that we can do something about future homes of this nature."
Former Ward 6 Councilman Marshand Crisler initially stood against Timber Falls and Forest Hill Place in 2006, but later warmed to the development, citing a need for new tax revenue in the city. Mayor Harvey Johnson Jr. said the solution is to change city zoning laws to discourage such projects.
It was a suggestion Yarber took to heart. "I think Johnson's absolutely right. We've got to look at that and how we empower the city's planning department to monitor these kinds of developments," Yarber said.
In addition to the addressing homeownership issues in south Jackson, Johnson said that he plans to take the city's purchase of property in the Metrocenter Mall to a consortium of retailers for a possible sale.
This morning, the council approved the administration's purchase of the vacated Dillard's department store property in the mall for $39,500. The appraised value of the property is $1.2 million, despite the areas drop in tax revenue and business.
Johnson said the city could do a number of things with the property, but he told council members that he wanted to put the spot before the International Council of Shopping Centers Convention for possible sale.
"We'd like to bring business back to that area as part of a bigger plan to renovate the Highway 80 corridor," Johnson told the council.
Previous Comments
ID

157106

Comment

I'm happy to hear that Yarber is feeling unsettled with the push for these types of developments in South Jackson. Though affordable housing, to rent and own, is critical to any city, these developments are only acting in the interests of the developers. Every indicator is showing that Jackson's population is shrinking, and these large-scale housing developments aren't drawing in residents, just simply shuffling them from other parts of the city as people are in search for reasonably priced, quality housing. The city needs to try to direct investment towards quality infill development in areas that may not be as isolated as South Jackson. Otherwise we'll continue to see neighborhoods like Farish Street and Georgetown deteriorate and lose their residents. On a positive note, buying the space in Metrocenter seems like it could be promising. Though I'm unsure of its viability as a space for retail, it could be the site of an innovative re-use as seen in with the Jackson Medical Mall.

Author

NOLA27

Date

2010-04-06T20:56:22-06:00
ID

157112

Comment

What the city needs to do is promote the numerous first-time homebuyer programs that are available to those in certain income categories who are most likely the people with these lease-purchase contracts. the programs provide financial education/counseling, homeowner education and matched savings accounts to be used towards the purchase of a home. It's a three-year commitment usually, but it is much better than a 15 year lease-purchase deal. Several organizations and financial institutions in the city offer them.

Author

eyerah

Date

2010-04-07T08:31:08-06:00
ID

157170

Comment

You have to manage a healthy balance between promoting home ownership in existing neighborhoods and lease/purchase developments. It's hard to convince someone to buy an older home in an existing neighborhood when they can move into a new or practically new home in a nice neighborhood like Timber Falls without the hassle. Which house does that single mom with 2 kids want?

Author

lanier77

Date

2010-04-09T08:07:48-06:00
ID

157178

Comment

That single mom with two kids would rather be investing her money into a (relatively)low-priced home with a small mortgage note that she can meet without having to starve her kids or sleep without heat. The new homes cost more. Also, I can see someone going for a 15-year lease/purchase so that if you stay fifteen years you own the home, but that's not the deal offered. They have to lease the home for 15 years BEFORE they can buy it. Then they have to pay for it all over again. An example - With Habitat for Humanities, they only require that the person has rented the same place for 3 years and made payments timely to prove they can make the payments on their Habitat home. In my opinion, these 15 year lease homes are not a good home investment. And on another note - homes built in the 50's through 70's are much better quality workmanship and materials than we can get now.

Author

deltabelle

Date

2010-04-09T15:57:27-06:00