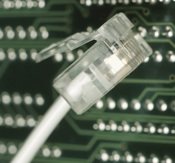 About half—45 percent—of all Mississippi residents are unable to do what many of us take for granted: read this, or any other Web site. They're unable to send e-mails to family or friends, search for jobs, find news and information, or do any of a myriad of tasks on the Internet, according to the U.S. Census Current Population Survey. The state has the lowest number of people connected to the Internet in the country, reports The Sun Herald.
Nationally, more than 68 percent of Americans have access to the Internet, and the federal government wants to see that number increase. The stimulus funds include $7.2 billion to expand access to broadband Internet connections, The Sun Herald continues.
Chris Campbell, director of the school of mass communication and journalism at USM, said, "We're in a state that's on the wrong side of the digital vibe, and that's an issue," he said, especially given that so much of communication these days is done online.
"If it's not going to get to half the homes in Mississippi, that's a problem," Campbell said. "It represents a pretty serious issue for the state."
Mississippi is in the first phase of expanding access to its citizens, according to the state stimulus Web site. This phase includes mapping "current technology capabilities across Mississippi," to determine what the needs are.