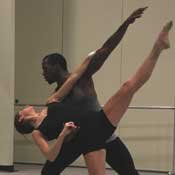 Start the weekend off by supporting Jackson's art scene. TALK dance Company presents Handel's "Messiah" and Copeland's "Rodeo" tonight at 8 p.m. at Jackson Academy's new Performing Arts Center. Proceeds from the performance will go toward "Merging Musical Worlds," TALK's international tour of Russia in May. To start your search for the weekend's best entertainment, visit Best Bets.
On Saturday, visit the Greater Belhaven Market at the Mississippi Farmer's Market where you can find fresh seasonal produce and gifts. Or take the kids to the Fondren Easter Egg Hunt at The Cedars and enjoy the spring weather starting at 10 a.m. When the sun goes down, head to Two Rivers Gala at 7 p.m. Call 601-977-7871 for ticket information. The annual event is a scholarship fundraiser for Tougaloo College and includes music and food by the Whispers, Vick Allen, Meet the Press and Tonya Youngblood. Plan your evening with JFP Events Calendar for even more options.
If your looking for musical entertainment see The Coathangers, The Quills and Senryu perform at Ole Tavern at 10 p.m. Want more music options? Check out
JFP Music Listings for Jackson's most comprehensive music listings.
Make your Easter Sunday morning memorable with brunch at the King Edward Hotel where the Howard Jazz Trio will perform. Or take part in several of the Easter Services around town including Belllweather Church, The Journey, St. Andrew's Episcopal Cathedral and The church Triumphant.
Sunday is also a great day to support local restaurants. Lumpkins BBQ will serve an Easter buffet with fried chicken, fish and fresh vegetables. BRAVO! will be open until 3 p.m. serving brunch and lunch specials. Want more dining options? Visit JFP Restaurant Listings and Menu Guide
Is something missing? To make sure your event is listed on the JFP calendars, send the information to [e-mail missing] or [e-mail missing], or add your event yourself. It's easy!