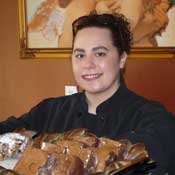 Even though she never went to culinary school, Dani Mitchell Turk has enough skill in the kitchen to earn herself a spot on national television. Turk will appear on the Food Network's "Ultimate Recipe Showdown" Sunday, April 4 at 8 p.m., where she will compete in the show's burger episode contest.
Despite the fact that she is the owner of For Heaven's Cakes & Catering in Jackson, Turk, 38, decided to submit a recipe for a burger instead of using her cake-baking prowess to gain an edge.
"I thought it would be fun to do burgers because they aren't my specialty, but they are one of my favorite things to cook," Turk says.
For her recipe, Turk submitted a burger version of a muffaletta, using ground pork, salami cooked like bacon, provolone cheese, Creole mayo and Italian olive salad. She calls her concoction the "Must-Have Muffaletta Burger." Turk also had to prepare a lightning-round recipe. She submitted a burger-style gyro called "It's All Greek to Me," where she used ground lamb covered in feta cheese dressing with cucumbers, banana peppers, lettuce and tomato.
Turk says she entered the contest to explore her culinary passion and was surprised to find out she was selected.
"I did it for the experience," Turk says. "I didn't really do it to grow my business. I did it to have a little fun and get away."
The show airs six episodes: hometown favorites; comfort food; party food; hot-n-spicy; cakes; and burgers. Four contestants compete on each show, and the winner of the episode will receive $25,000 cash in addition to a remodeled kitchen. The show was taped in September, so Turk already knows who the winner is, but has been sworn to secrecy by the Food Network until the airing.
"You'll just have to watch and find out," she says.
Turk says that last year's winners were featured again on some of the various episodes, so she could potentially compete again in the future.
"I would love to do it again," she say. "You just never know. If you've got something that's special and you think 'they'll never think of my recipe,' ... I thought that, too, but they did. Get out there and try it."
Turk was born and raised in Jackson, and has worked in restaurants for most of her life. She attended Mississippi State University, and now lives near the reservoir in Brandon with her husband.
For more information on the competition or how to submit your own recipe, visit http://www.foodnetwork.com For more information about For Heaven's Cakes and Catering (4950 Old Canton Road) call 601-991-2253.
Previous Comments
ID

157035

Comment

I'm sure Dani's burger is excellent, but I doubt anything can top her stunning lemon panna cotta: It's been months since Best of Jackson, and I can still taste that perfect shot of sunshine.

Author

Deirdra Harris Glover

Date

2010-04-02T13:43:45-06:00