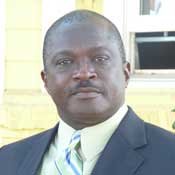 Vic Sexton bridges the gap between small businesses and city government. A senior planner for the city of Jackson, Sexton handles the city's outreach to small businesses. He provides some technical assistance and educates business owners about the city's grant programs for storefront improvement and small business development. Funded by the U.S. Department of House and Urban Development, the programs offer reimbursements of up to $15,000 for qualified businesses.
Sexton joined Mayor Harvey Johnson Jr.'s administration in November 2009. He knows the city's business environment well, having previously spent 28 years working for Trustmark Bank, most recently as manager of the Jackson Medical Mall branch. He retired from banking in May 2008.
Sexton, 51, lives in west Jackson, with his wife Betty, with whom he has three daughters.
A Prentiss native, Sexton came to Jackson to attend Jackson State University. He received a bachelor's degree in 1980, and in August he will return to his alma mater to begin work on a master's degree in finance. In the future, he may be interested in teaching finance at the college level.
Johnson's administration has put an emphasis on reaching the city's small businesses, and Sexton's job is to follow through on that commitment.
"The reception's been very good," Sexton said. "A lot of them didn't know about these incentives."
Of the city's many grantees, Sexton is especially proud of Quest Fitness, which received a facade improvement grant for its move to Highway 18 several months ago, and Tony's Tamales, which recently received a development grant for equipment.
The city has until Sept. 30, the end of the fiscal year, to disburse the HUD money. Sexton has an incentive to finish that job early: If the city uses all its grant money, it's more likely to receive a higher amount from HUD next year.
"We're well on track to exceed what we did last year," Sexton said. "I'd look for us to disburse it well before the Sept. 30 deadline."