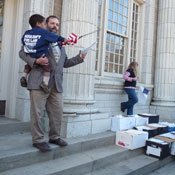 The Mississippi Secretary of State's office approved an initiative today for the 2011 ballot asking voters to decide whether the constitution should designate that life begins at fertilization.
Secretary of State Delbert Hosemann announced that Personhood Mississippi, an anti-abortion grassroots organization, received 106,325 signatures supporting the amendment. The secretary of state's office requires 89,285 statewide voter signatures with at least 17,857 from each of the state's five congressional district to qualify an issue for a ballot initiative.
If passed, the amendment will add the following clause to the state constitution: "The term 'person' or 'persons' shall include every human being from the moment of fertilization, cloning or the functional equivalent thereof."
Hosemann said that his office will present the amendment to the Mississippi House of Representatives and Senate next January. The Legislature will then have an opportunity to draft alternative language that will also be placed on the ballot. Voters will then choose between the two or reject them both.
"The House and Senate can have a competing ballot with different wording but they can't change the Personhood ballot initiative," he said. "They could word it differently."
Personhood Mississippi organizers Les Riley and Phillip Morris were both in attendance at the Capitol today and said they are confident that voters would pass the amendment.
"We are trying to define in the law when life begins, we are trying to acknowledge what God has always told us, and what science has told us: A person is a person no matter how small," Morris said. "We are trying to give equal protection to all human beings."

Currently Mississippi is the only state to have collected enough signatures for a 2011 ballot initiative. In 2008, Colorado became the first state to gain enough signatures for a personhood amendment but it failed with only 27 percent of Coloradans voting in favor. Colorado is trying again, however, and has gained enough signatures for a ballot initiative for 2010. 

Harriett Johnson, advocacy coordinator for the of the American Civil Liberties Union in Jackson said that if passed, the amendment would violate the U.S. Supreme Court's decision in Roe v. Wade. The amendment would also open up the state supreme court to interpret other laws containing the word person.
"It's going to have devastating effects on everything from access to birth control, in vitro fertilization, abortion and stem cell research," Johnson said. "t's meant to take away a women's right to chose."
Previous Comments
ID

157011

Comment

What a slippery slope this can be! Does this mean that fertility clinics who have to destroy frozen embryos not used for in-vitro will be charged with murder? It could happen. This is a bad idea and another area where relgious extemists are trying to convert everyone to their belief structure whether they like it or not.

Author

onewhoknows

Date

2010-04-01T14:57:25-06:00
ID

157013

Comment

Wouldn't it be more efficient to build a giant toilet on the lawn of the capitol and dump money into it? The law suits this will generate would be, if I may quote my personal friend George Tenet, a "slam dunk." And not for Morris et al. I wish someone could ask Morris where in the Bible it says that "a person is a person no matter how small." I've read the Bible, and nothing of the kind is in it. As for science, it does not make such proclamations. The fact that a fertilized zygote has a unique genetic code tells us absolutely nothing about whether that zygote is "a person."

Author

Brian C Johnson

Date

2010-04-01T15:02:45-06:00
ID

157015

Comment

The CL article concerning this initiative is titled "Mississippi Voters To Decide When Life Begins". If that's not a scary title I don't know what is. You know, with MS voters known for being so well-educated and scientific and everything. You guys have a much better title. ;) As stated above, this initiative is dangerous in that-if passed-it opens the door to a million different lawsuits...all of which allow the court and MEN to decide what happens with a woman's body. I have a wonderful ultrasound of my now little nine-month-old zygote at seven weeks gestation. Know what it looks like? A BUTTER BEAN. I love my child, but she wasn't a "person" at that point. She was a collection of cells. Not only that, she was MY collection of cells. *I* decided to let her grow into a "person". And that happened when they separated her from my body-not a minute before. In some way I'm thinking the government acknowledges that because they weren't willing to issue her a social security number until after that happened. I agree with Brian's previous statement about the Bible not ever mentioning that a "person is a person no matter how small". And I'd like to add onto that by saying I'm pretty sure that science hasn't mentioned that fact either. The thing that is wrong about Mr. Morris's statement in general is that it combines something that "God told him" with a government LAW. I may be mistaken here but-beyond the schizophrenic implications of God speaking to Mr. Morris-isn't that automatically unconstitutional? I love how people that usually campaign for less government involvement for everything else in the country are all about more government involvement in my vagina.

Author

Lori G

Date

2010-04-01T15:34:08-06:00
ID

157016

Comment

Following your line of argumentation, Lori G, you would support the right to perform postnatal abortions, so long as the umbilical cord isn't severed?

Author

Mark Geoffriau

Date

2010-04-01T15:38:05-06:00
ID

157027

Comment

This is a scary proposal. I agree with Harriett Johnson, this is designed to take away our right to chose. The only person who has any right to make the decision if she should carry a pregnancy to term is the woman who is pregnant. I agree with the other people who have posted here that religion has no place in legislation. Maybe concerned people like Les Riley and Phillip Morris could turn their efforts toward protecting and taking care of the people who are already alive. There seems to be a real need for that in Mississippi.

Author

RhinosMom

Date

2010-04-02T08:26:05-06:00
ID

157048

Comment

This is a very serious proposal. If it receives a majority vote, its implications (down the road) are gigantic. I hope the reasonable people in Mississippi do all they can do to "educate" voters before this vote. It is a oblique blow against abortion in this state.

Author

aliciastone

Date

2010-04-03T00:22:48-06:00
ID

157054

Comment

This is an interesting development. What baffles me, though, is that there seems to be a double standard concerning when life begins. For instance, when Avis Banks was murdered in Ridgeland, wasn't Carla Hughes charged with killing her unborn child too? The point I'm making is how do we not consider it a life when it comes to abortion, but do consider it a life when the mother of the unborn is murdered. Avis Banks was five months pregnant at the time, so maybe it's a timing issue.

Author

golden eagle

Date

2010-04-03T12:12:03-06:00
ID

157072

Comment

golden eagle, I don't know the details of the case your talking about. That may be apples and oranges your comparing. Did Carla Hughes know that Avis Banks was pregnant? In the courts you HAVE to acknowledge when a woman WITH child was murdered, as it shows how heinous & sever the crime was. That the person would murder a pregnant woman.

Author

herman

Date

2010-04-05T12:27:48-06:00