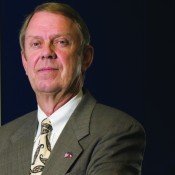 Mississippi Insurance Commissioner Mike Chaney said he has no intention of approving a 44 percent rate increase request by Allstate Property and Casualty Insurance Company on more than 50,000 homes statewide.
"They're not getting 44 percent out of me. The court might give it to them, but they're not getting it from me," Chaney said on Thursday. "What makes Mississippi so much more risky? We've got better fire protection than many other states. We're making it hard for the insurance companies to justify their rate increases."
If Chaney follows through, the company could protest his rate-increase refusal with a suit in Hinds County Chancery Court, but Chaney said he felt confident he had a good argument for the judges.
Allstate requested a 65.1 percent rate increase last December, but Chaney refused to approve it in January.
Sen. David Baria, D-Bay St. Louis—a coastal resident and frequent insurance industry critic since the 2005 damage of Hurricane Katrina—said earlier this year that he suspected some insurance companies were attempting to price themselves out of the Mississippi market by raising rates to intolerable levels.
Mississippi, with its comparatively low population, constitutes a small amount of Allstate's nationwide customer base. Chaney said rate increase denials by the commissioner could carry the possibility of the company moving its business out of the state. He added, however, that the state would be able to replace the company should it leave.