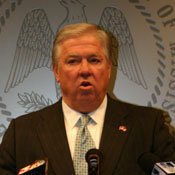 Gov. Haley Barbour will wait for the Florida Attorney General Bill McCollum to file a multi-state suit against recently passed national health-care reform before joining in, his office said today.
"Florida is filing an amended suit, so we will join that one when they drop that," Barbour's Deputy Press Secretary Laura Hipp said.
The governor said earlier in the week that he would join a multi-state lawsuit led by McCollum today, but it is still unclear today whether the Florida attorney general was ready to move forward.
McCollum's office did not respond to questions on whether he would be filing his amended complaint today or even this week.
The suit will challenge the constitutionality of the national health-care law, which expands eligibility for Medicaid and requires individuals to buy government-subsidized health insurance.
Barbour told Mississippi Attorney General Jim Hood to sue the federal government over the same law last month. But Hood said he needed more time than Barbour's March deadline allotted to pursue the case, particularly since the House and Senate were already working to pass a reconciliation package to significantly change the law Barbour sought to challenge.
Barbour said in a March 25 letter to Hood, however, that he does not intend to wait long.
"I intend for Mississippi to join this litigation no later than the date on which the First Amended Complaint is filed by the Attorneys General whose states are plaintiffs to the Florida suit," Barbour wrote. "If, by that time, you have determined you wish to represent the state, I would appreciate you and your office's doing so. If you decide otherwise, I will retain outside counsel and provide your office with a copy of the contract for your ratification."
Barbour inevitably will face criticism of spending valuable Mississippi taxpayer money if he hires outside counsel to pursue the suit, a practice the governor has criticized Hood for in the past. The governor may instead convince one of the attorneys out of the Florida attorney general's office to stand in for the state of Mississippi, absolving his own state from financing either input or research in the suit.
Either way, the fight will not be an easy bout. Barbour argues that forcing individuals to make a purchase benefitting a private company represents a breach of individual rights.
"...[T]he health-care reform law violates the U.S. Constitution with its unprecedented attempt to regulate an individual's choice not to engage in economic activity," Barbour wrote in his March 25 letter to Hood.
But the U.S. Supreme Court has ruled in favor of the federal government's right to impose economic activity in the past. The 1942 U.S. Supreme Court case Wickard v. Filburn addresses a dispute between farmer Roscoe Filburn and the mandates of the Agricultural Adjustment Act of 1938 requiring farmers to purchase a certain amount of animal feed from another farm, as opposed to growing the feed on their own property.
In that case, U.S. Supreme Court ruled that Congress' right to regulate local production of wheat logically connected to Congress' goal of stabilizing wheat prices in the Great Depression by restricting the supply of wheat produced and used by individual farmers.
Other critics of the 13-state suit against the federal government's health-care bill point out that the state of Mississippi already forces drivers to purchase auto insurance from a private company.
Previous Comments
ID

157022

Comment

Where was all this outrage when we were 'forced' to purchase car insurance? I would rather be foreced to be healthy than have car insurance.

Author

delicatefsf

Date

2010-04-01T17:48:57-06:00
ID

157024

Comment

Barbour is just playing a political and personal game. As a lawyer, he should know none of these suits standas a snowballs chance in h--l of succeeding.The constitution gives congress the right to regulate interstate commerce, which health care falls under. I think Haley is upset that the Republican governors have decided to pursue this frivolous lawsuit as a political gesture and he, as the head of the Republican governors, can not get his own state to join in this foolishness. Let's hope Jim Hood has enough sense and b--ls to tell Haley NO. And not a dime of taxpayer money should be spent on this grandstanding. If Haley wants to file a lawsuit he should use his own money or private money.Better yet why doesn't he spend more time in the state tending to the states problems!!!

Author

wellington

Date

2010-04-01T22:49:10-06:00
ID

157026

Comment

Twentieth century courts have set precedent for such legislation by citing the Commerce Clause and using the modern, loose interpretation of the role of the federal government. With the exception of the relatively minor part making health insurance mandatory, I don't see this program as any more objectionable than Medicare or SS, both of which have been ruled constitutional. I also expect the SCOTUS (hopefully it won't reach that point) would uphold the HCR law as constitutional. Therefore, I object to my taxes being used for this purpose, particularly since these lawsuits are clearly a marketing tool by a small group of AGs and governors like Barbour with ambitions for higher office.

Author

Jeff Lucas

Date

2010-04-02T07:40:49-06:00
ID

157029

Comment

I'm so happy that Barbour is going to join the lawsuit. Not everyone is in favor of this bill, and I'd be thrilled if it were found unconstitutional. Better yet, get some private attorneys to take it on contingency (like the Dems' dirty tobacco attorneys). Surely Hood and his buddy Moore couldn't object to that. There are a number of brilliant constitutional attorneys in Mississippi.

Author

aliciastone

Date

2010-04-02T12:29:22-06:00
ID

157043

Comment

There certainly are some brilliant constitutional attorneys, aliciastone, many of whom have already weighed in to say that the federal government is well within its constitutional rights to pass the law it did. Even former President Reagan's solicitor general called the law suits "deeply ignorant" at worst, and political grandstanding at best.

Author

Ronni_Mott

Date

2010-04-02T18:51:29-06:00
ID

157044

Comment

Yeah, Barbour is just being a baby because all his friends are going to the party but his mom won't take him.

Author

DrumminD21311

Date

2010-04-02T19:13:24-06:00
ID

157047

Comment

If the Guv and a few of his legal eagle buddies want to challenge the constitutionality of HCR with PRIVATE funds, great. Better that than using state money to pursue what I believe is a frivolous lawsuit. The SCOTUS wouldn't dare declare this unconstitutional, including the borderline "individual mandate" provision.

Author

Jeff Lucas

Date

2010-04-02T22:51:49-06:00
ID

157050

Comment

Jeff: The decision about ObamaCare's constitutionality will be up to the courts. Virginia has some interesting positions, because they already have a law prohibiting any laws requiring its citizens to purchase healthcare. I am not an attorney. There are a LOT of brilliant minds in the law who have differing views. This is a very open case.

Author

aliciastone

Date

2010-04-03T00:42:34-06:00
ID

157053

Comment

Virginia has some interesting positions, because they already have a law prohibiting any laws requiring its citizens to purchase healthcare. But federal laws trump state laws. BTW, you do know the idea of a mandate to purchase health insurance was a Republican idea, right? Sen. Chuck "Pull the Plug On Grandma" Grassley (Iowa) supported an individual mandate during Clinton's failed attempt at reform and even hinted his support for it as late as aJune 2009 interview on Fox News Sunday. What is it about it now that's suddenly wrong?

Author

golden eagle

Date

2010-04-03T11:58:49-06:00
ID

157057

Comment

"But federal laws trump state laws." Yes, exactly! We fought a war over that. The states-rights idiots lost.

Author

berberry

Date

2010-04-04T08:08:01-06:00
ID

157067

Comment

Wow, I am so tired of hearing about this. We all have out opinions about this bill. In some ways it will be good and some ways bad. I think we should all agree on this: this is not a victory for anyone, it is a travisty, trillions of tax dollars to pay for this? But our public schools are having cuts, lets put our money in americas future, they need to be smart enough to get themselves out of the mess we are putting them in.

Author

jjoutraged

Date

2010-04-05T09:20:11-06:00
ID

157070

Comment

I think we should all agree on this: this is not a victory for anyone, it is a travisty, trillions of tax dollars to pay for this? This seems like the very definition of something that not everyone would agree to. ;-)

Author

Todd Stauffer

Date

2010-04-05T11:12:21-06:00