Friday, September 18, 2009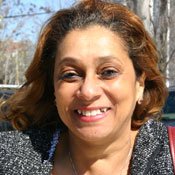 Diving into state and city challenges, panelists at last night's annual Operation Shoestring fund-raising dinner brought the issues to light along with potential solutions. The diverse crowd listened attentively to "A Conversation About Community," as each panelist offered his or her unique life experience to forward the discussion.
The panel consisted of four native Jacksonians with a wealth of knowledge and some impressive bona fides. Jim Barksdale is the founder of the Barksdale Reading Institute and was the president and CEO of Netscape Communications and chief operating officer of FedEx; Oleta Fitzgerald is currently the director of the Children's Defense Fund's Southern Regional Office, and served the director of intergovernmental affairs for the U.S. Department of Agriculture; Luther Ott, chairman of the Community Foundation of Greater Jackson, is a former lawyer who served as president of the Mississippi Bar Foundation and is currently a minister; and Dr. Aaron Shirley, board chairman of the Jackson Medical Mall Foundation, is a pioneer of urban health care in Mississippi.
Moderator Donna Ladd, editor-in-chief of the Jackson Free Press, asked the panel to name the city's greatest challenge and greatest strength, which prompted panelists to plunge headlong into issues affecting children and families. In Mississippi, they agreed, poverty is a common thread linking other issues together.
"Poverty drives so many other things," Fitzgerald said, adding that families with adequate income can provide better opportunities for their children. She emphasized that analyzing the ways people escape poverty is part of the solution.
Barksdale stressed that lack of early-childhood education and the consistent short-changing of education in Mississippi exacerbates poverty. "Children who can't read by the end of third grade will not be productive citizens," he said, noting that statistically, officials can accurately predict the percentage of adults who will end up in prison based on third-grade reading achievement. Reading education must begin before kindergarten, he said, to give children their best chance at productive, contributing futures.
Ott and Shirley agreed that education is a vital component, but differed in specifics.
Putting the question to his students at Tougaloo Collage, Ott said that along with parents and educators, religious agencies—churches, synagogues, temples and mosques—need to be part of the solution, and religious leaders need to bring the difficult conversations to their congregations. He charged religious leaders with the task of changing people's hearts and minds.
Another major issue driving poverty, Dr. Shirley said, is teen pregnancy. He came armed with disheartening Hinds County statistics, including the fact that out of 675 babies born to teens in the last year, 22 of the mothers were between 10 and 14 years old; three of those had been pregnant before. Babies born to teens have a 42 percent likelihood of growing up in poverty, he said, and girl babies born to teens are three times more likely to become teen mothers than girls born to adult women. America needs to declare teen pregnancy a public health problem, he said.
In specific reference to the trend of "status" teen pregnancy, Shirley said that "the culture is too silent" about the problem. "It's as unacceptable for children to have babies as it is to spit on the living-room floor."
The panelists emphasized the need to dismantle the cradle-to-prison pipeline, and all vigorously agreed that funding for education must be maintained.
"We cannot continue to cut education," Fitzgerald said, prompting applause from the audience, and Barksdale explained how the Mississippi Adequate Education Program made it possible for schools in poor areas to compete on a level playing field. "MAEP is a very important piece of legislation," he said, and the recently passed Children First Act is the first legislation in the nation to put the responsibility for poorly performing schools squarely in the laps of principals and administrators.
When asked how to address issues of race and personal responsibility, the panelists provided a wide range of responses.
"Obviously, it matters, and obviously, we have to talk about race," Ott said, adding, "We're afraid to have the hard conversations." But religious settings are exactly the place to have those dialogues, he said. "The good news is that there's a church on every corner," in Mississippi.
Fitzgerald made the distinction between issues of race and issues of ideology.
"Ideological lines get drawn, and no one's trying to solve the problems," she said. Especially in politics, everyone just wants to win, she suggested, dividing communities instead of uniting them. Barksdale likened the phenomena to America becoming members of different, competing tribes, but made a point to say that the audience last night was one of the most racially diverse he had ever seen in the U.S., standing in stark contrast to his high-school years in Mississippi.
In the conversation about community, all agreed that when it comes to issues surrounding and exacerbating poverty, people must take a stand.
"We have to start saying, 'This is unacceptable,'" Fitzgerald said. "And say it loud."
Previous Comments
ID

152142

Comment

We'll be attempting to begin a discussion on race TOday at 2pm on my show. 91.3FM. Kim Wade and Daniel Johnson are my guests

Author

Kamikaze

Date

2009-09-20T08:44:17-06:00