Tuesday, September 8, 2009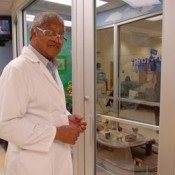 Dr. Aaron Shirley is challenging those opposed to a government-run public health plan to put their convictions where their mouths are. Shirley says that if they believe what they're saying, they should burn their Medicare cards. "I want to have a demonstration—Boston Tea Party-like—and burn those cards," Shirley told The Washington Times.
He has designed an invitation, he says, and plans to invite Rush Limbaugh as a speaker. "If you do not have a card, bring Mama's or Grandmama's," the invitation says. "We will demonstrate our opposition to government sponsored health care by burning the card."
It's a somewhat cynical attempt to show what Shirley says is "the distractors'" dishonesty about health-care reform, currently being debated in the U.S. Congress and by citizens nationwide. "I don't think there's anything you could say that would make a difference to them because they're lying hypocrites," he told the Times.
Shirley is currently chairman of the board for the Jackson Medical Mall. He is a pioneer of rural and urban health care in the state. Shirley's vision for a one-stop health-care facility for the poor and underserved came to fruition with the Jackson Medical Mall in 1995.
Among his many firsts, in 1965 Shirley became the first African American to serve his pediatric residency at UMMC, and in 1970, he helped establish the Jackson Hinds Comprehensive Health Center. He is a graduate of Tougaloo College and Meharry Medical School in Nashville, Tenn.
Sept. 17, Shirley will participate in Operation Shoestring's Annual Dinner, "A Conversation About Community," at the Jackson Convention Complex from 6:30 to 9 p.m. He joins panelists Jim Barksdale, founder of the Barksdale Reading Institute; Oleta Fitzgerald, director of the Children's Defense Fund's Southern Regional Office; and Luther Ott, chairman of the Community Foundation of Greater Jackson, in a panel discussion moderated by Jackson Free Press Editor-in-chief, Donna Ladd. For more information, go to the Operation Shoestring Web site or contact DeMatt Harkins at [e-mail missing] or 601-353-6336.
This story was updated to remove information regarding Dr. Shirley's position with UMMC. He has not held a position with the UMMC for the past year.
Previous Comments
ID

151677

Comment

I wrote a letter to the C-L saying pretty much exactly what Dr. Shirley said about anti-health care reformers burning their Medicare cards. I hope Dr. Shirley will actually put together such a rally. It'd be amusing to watch.

Author

golden eagle

Date

2009-09-08T20:31:48-06:00
ID

151769

Comment

Hat's off to Dr. Shirley. He is definitely one to speak the truth and to stand up.

Author

justjess

Date

2009-09-10T12:44:45-06:00