Wednesday, September 2, 2009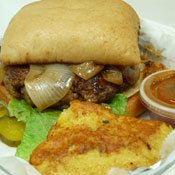 I heard the bang when the F'n Burger hit the table at F. Jones Corner. This menu item—which joins a short list of incredibly good food with irredeemably suggestive names, like the F'n Chicken and the F'n Crab burger—ain't a frozen patty meant for split-second nuking. When the waiter asks you how thoroughly you want your burger cooked, you'd best be specific, because a half-pound patty the size of a softball can easily be cooked by degrees.
Owners Daniel Dillon (a veteran of Hal & Mal's and Primos who studied culinary arts at Hinds Community College) and Adam "Big Nub" Hayes aren't specific about the ingredients of the burger. Don't expect any strong additives like ample garlic juice or onion powder to compete with the natural taste of the meat, however. Hayes says they were shooting for a more simple taste suitable for classic palettes. They wanted a burger that tastes like a burger, not lasagna.
The F'n Burger hits the spot on those days when you're ready to say "to hell with the treadmill and the love handles. I wanna eat like a caveman."
It comes with caramelized onions, which is flavor enough for some, but the sandwich is complete only after the "sweet heat" house barbecue sauce. Expect a subtle, tangy flavor that fades quickly away at the end of a meal. Which is good—some sauces linger in your mouth even after you've moved on to the banana pudding or tiramisu, and you wouldn't want that.
The patty comes housed in a ciabatta bun, a necessary component because the yeasty, sourdough construction keeps the bread from disintegrating under the mass of its contents. You have the option of fries, sweet potato fries, a house salad or fried grits. The fries are great, but go with the fried grits, just to have the experience. But don't bother asking about the ingredients.
"What—how 'bout I just give you the restaurant?" Hayes says when I asked him.
F. Jones Corner
303 North Farish St.,
Jackson, MS 39215
601-983-1148.
Previous Comments
ID

151566

Comment

I haven't been able to make it to F. Jones yet, but this write-up of the burger has me itching to go. I'll warn my clients not to schedule any afternoon meetings that day!

Author

darren

Date

2009-09-03T14:15:40-06:00