Wednesday, October 28, 2009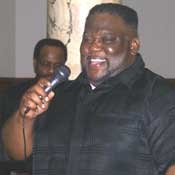 Though Steven "T-Bear" Johnson never met his grandfather, the famous blues musician Robert Johnson, stories have been passed on from family members since T-Bear can remember.
Robert Johnson, a Delta blues musician who recorded in the 1930s, died when he was only 27. Known for his unique guitar-playing ability, a legend started by fellow musicians claims that Johnson sold his soul to the devil in exchange for being the greatest blues musician anyone had ever heard.
In honor of his grandfather's memory, T-Bear will perform with Stevie J. this Halloween at The Auditorium in Fondren.
He's not a guitar player, but T-Bear is the vice president of the Robert Johnson Blues Foundation. The foundation's goal is to "help the younger folks get scholarships for school and keep the original blues alive," he says. Since becoming an active member of the foundation, T-Bear has been singing the blues while analyzing the musical and lyrical components of his grandfather's work.
"I became intrigued by his lifestyle … I began to study the words (in his music) and I became more in tune with it's meaning," he says.
T-Bear, 50, lives in Crystal Springs with his wife and two children. He is an elder at Straightway Ministries Church in Utica. He said he hopes to create a connection between gospel music and the blues his grandfather created.
"I'm showing the relationship between the different styles of music. … All types of music stems from this spiritual aspect. Blues and the gospel are intertwined. While the blues tells you about your lifestyle, the gospel is sung from the soul, and it tells you if you have the blues," he says.
See Steven "T-Bear" Johnson perform Saturday, Oct. 31, along with guitarist Stevie J. The Auditorium will host the event at 8 p.m. Tickets are $25.