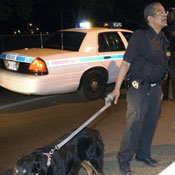 Controversies surrounding two Jackson nightclubs have put the clubs in the center of separate lawsuits, one as a defendant, the other as the plaintiff.
The City of Jackson filed a complaint Thursday to temporarily shut down Birdland Restaurant and Lounge at 538 N. Farish St. The club, which has been closed since a fatal shooting Sept. 20, is operating illegally, according to the city's suit, and is a public nuisance.
The Jackson Police Department has logged hundreds of calls from the club since 2006, the suit states. Just during the last 90 days, Birdland has been the site of "at least" four reported felony auto burglaries, three misdemeanor simple assaults and two petty thefts. Police also charged Alvin Brown, 19, with the Sept. 20 murder of Pearl resident Yatasha Johnson, 27, and three counts of aggravated assaults in a highly publicized shooting at the club.
The suit also claims that the Mississippi Secretary of State's office "administratively dissolved" Birdland, April 16, 1979, therefore the club has been operating illegally ever since. The club's beer license expired Sept. 1 of this year, the suit continues, and has been allegedly engaged in "the unlawful sale of intoxicating liquors."
Hinds County Chancery Court has scheduled a preliminary hearing on the case for next Wednesday, Oct. 7, at 1:30 p.m.
In a separate case, the Upper Level Bar & Grill filed a suit Aug. 26 against the estate of former Jackson Mayor Frank Melton, his two former bodyguards, Michael Recio and Marcus Wright, the City of Jackson and a handful of others. That action, first revealed by local blog site Jackson Jambalaya and then reported by FOX 40, is in connection with an Aug. 26, 2006 incident where, according to the suit, Melton, Recio and Wright "illegally entered the (club) without probable cause, without a search warrant, consent to search or exigent circumstances, and searched areas of the (club)," and arrested manager Tonarri Moore.
The suit goes on to say that while in custody, Melton ordered that Moore should be "brutally beaten and attacked" by a "gang of attackers who called themselves the 'Wood Street Players." The Jackson Free Press has reported extensively on that incident and its aftermath.
The Upper Level, located at 4125 W. Northside Dr., is seeking $7.5 million in damages.