Thursday, November 19, 2009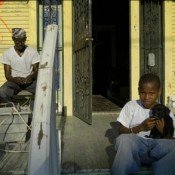 More than four years after Hurricane Katrina roared out of the Gulf of Mexico, yesterday a federal court ruled against the Army Corps of Engineers for their failure to properly maintain a shipping channel, reports CNN.
The Corps failure to maintain the Mississippi River-Gulf Outlet canal, "was not policy, but insouciance, myopia and short-sightedness," U.S. District Court Judge Stanwood Duval Jr. wrote in the ruling.
"For over 40 years, the Corps was aware that the Reach II levee protecting Chalmette and the Lower Ninth Ward was going to be compromised by the continued deterioration of the MRGO. ... The Corps had an opportunity to take a myriad of actions to alleviate this deterioration or rehabilitate this deterioration and failed to do so. Clearly, the expression 'talk is cheap' applies here."
The ruling comes in response to a lawsuit brought by six New Orleans plaintiffs, and has resulted in five monetary awards ranging from $100,000 to $317,000. Duval ruled against one couple, CNN reports.
More than 1,800 people died in the storm, most—nearly 1,600—in Louisiana, where Katrina devastated New Orleans when the city's levee system failed and widespread flooding occurred. Overall, the storm damage covered more than 90,000 square miles and displaced nearly 300,000 people, causing more than $81 billion in damage. FEMA called Katrina "the single most catastrophic natural disaster in U.S. history."
Recovery continues throughout the areas affected by the storm, including the entire Mississippi Coast.
Attorneys for the plaintiffs say that this ruling gives New Orleans residents ammunition to push the federal government to do more.
"It has been proven in a court of law that the drowning of New Orleans was not a natural disaster, but a preventable man-made travesty," the attorneys said in a statement. "The government has always had a moral obligation to rebuild New Orleans. This decision makes that obligation a matter of legal responsibility."
Previous Comments
ID

153457

Comment

Humph. I was told it was all George Bush's fault.

Author

Jeff Lucas

Date

2009-11-19T11:18:06-06:00
ID

153458

Comment

Anyone besides me think this puts paid to McGowan's development, er, I mean flood control project in a big way?

Author

Pilgrim

Date

2009-11-19T11:22:30-06:00
ID

153459

Comment

Politicians need to stop fiddling with the Corps and let them do their jobs. At this point, and they know it, we need to go full speed ahead with levees in Jackson, or a whole bunch of people are going to say "we told you so." Before the worlds of Pickering, Lott, Bush, et al, started falling apart, the developers thought they would power some version of Two Lakes through the Corps. My guess is that the Corps has known for a long time that it's not a good idea, but the political heat was on heavy-duty. Now, they have an administration that is not likely to earmark a plan to flood the wetlands, etc., and they know it's time to move on what we should have done long ago: built levees (along with planned green space, etc.) It's shameful this thing has drawn out this long. And everybody who paid off a politician to cause these kinds of delays ought to be flogged.

Author

DonnaLadd

Date

2009-11-19T11:39:41-06:00
ID

153462

Comment

I wonder if anyone's going to bring the Delta Pump back up.

Author

Ironghost

Date

2009-11-19T11:59:07-06:00