Wednesday, November 11, 2009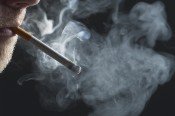 While many Jackson citizens have yet to see the health benefits of a smoking ban enacted by the city last February, the city of Starkville, which banned smoking in 2006, is seeing a payback for the decision in better health. In a study released Monday, Starkville showed a marked reduction in heart attacks, down 27 percent, in the past three years, reports NEMS360.
"We are excited about the finding," researcher Robert McMillan told the paper. McMillan conducted the study with Dr. Robert Collins, director of Mississippi State University Health Services.
The study looked at the number of heart attacks diagnosed at Oktibbeha County Hospital in Starkville, and included people transferred to other facilities for additional care. The ongoing research will also include data from Tupelo and Hattiesburg, both of which also enacted smoking bans in 2006. The preliminary assumption is that much of the reduction in heart attacks is from people who are no longer exposed to second-hand smoke, McMillan said, but additional research is needed to confirm that.
"Health advocates will continue to push for a statewide smoke-free law during the 2010 legislative session," Jennifer Cofer, deputy director for the American Lung Association Mississippi told NEMS360.