Wednesday, November 11, 2009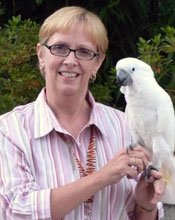 Beth Poff laughs her best laugh as she ponders the question, "What do you do in your spare time?"
As executive director of the Jackson Zoo, Poff's time is consumed in making the 2007 Mississippi Travel Attraction of the Year better. Poff, 51, can be found updating her Facebook status and tweeting about zoo news and events at any hour. Poff says a stack of movies from Netflix and three-day weekends taking in local history and tourism are her reprieve.
The Jackson Zoo's executive director position brought Poff to Jackson in 2005 from Roanoke, Va., where she held the same position at Mill Mountain Zoo. Poff became a Mississippian by choice to escape Virginia's rough winter weather and to make a positive impact on the zoo. She also fell in love with the people, like transplants tend to.
Poff, who lives in Clinton with her husband, James Norman, and two cats, Bonnie Bow and Domino, thought as a child that animals were the greatest things in the world.
"I was one of those kids who brought home snakes, frogs and birds, even though my mother told me they belonged outside," she says. "I tried to convince her that I could make a great container in the basement to view and feed them, but I had to let every one of them go."
While her biology professors at Virginia Western Community College in Roanoke pushed students toward the veterinary profession, Poff knew she wanted no part of that because of the surgical aspect. In 1985 she received an accreditation in animal management, and by happenstance she heard of a zookeeper opening at Mill Mountain Zoo.
Shortly after beginning her career, Poff received the Zookeeper of the Year award from the American Association of Zookeepers. When she left her position in 2005, the city of Roanoke presented her with a key to the city for her contributions. "I have no idea what it opens," she says with a smile.
Tough economic times have forced Poff to think unconventionally to keep the zoo viable. In a bold move, she brought the first-ever penguin exhibit to the zoo in March. While it seems that most businesses in the nation are cutting budgets and jobs, Poff is ecstatic that the zoo hasn't had any staff cutbacks.
Under Poff's leadership, the zoo is moving forward on renovations and improvements, which she feels are her biggest accomplishments so far.
As much as she loves the animals at the zoo, she loves unwanted animals as well.
"Pet Adoption from shelters is providing care to animals already here. Support of spaying and neutering pets is important to stop having so many unwanted animals," Poff says.
Previous Comments
ID

153271

Comment

Watch the trailer for The Zookeeper at http://www.youtube.com/watch?v=z75b19HbpL8

Author

svendsenfilm

Date

2009-11-11T16:50:54-06:00