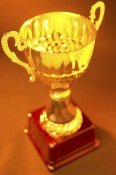 [verbatim] The Mississippi U.S. Small Business Administration will honor its 2009 small business award winners during a dinner reception on Tuesday, June 16 at the Mississippi e-Center @ JSU located at 1230 Raymond Road in Jackson, Miss. Registration starts at 5:30 p.m.
Business leaders and government representatives will join SBA's Mississippi District Director Janita R. Stewart in congratulating Mississippi's best entrepreneurs and business advocates. In addition to the State Small Business Person of the Year, men and women involved in government procurement, small business champions as well as partners in financial and entrepreneurial development will be honored. The 2009 SBA Mississippi Small Business Award winners are:
Small Business Person of the Year: Richard A. Moore,
President, Eyevox Film & Video Production, Ridgeland
Home-Base Business Champion: Shirley T. McLendon
Owner, Mi-Da Maps, Hernando
Women in Business Champion: Mary Canavan Werner
President, Tupelo Manufacturing, Tupelo
Veteran Small Business Champion: Charles E. Harkless, Jr.
Project Manager, SJB Group, LLC, Jackson
Small Business Exporter (Team): Erin N. Hayne, Owner & Designer
Nuno Goncalves Ferreira, Founder & Designer
Visual Reference Studio, Jackson
Minority Small Business Champion: Cathye Ross-Amos
Owner, Ross Business Partnerships, LLC, Gulfport
Small Business Journalist: John J. Woods
Freelance Writer, Magnolia Outdoor Communications, Clinton
Financial Services Champion: Thelman Larry Anderson
Director, Resources Division, Central MS Planning & Development District, Jackson
Entrepreneurial Success: Celeste Foster O'Keefe
CEO, The Dancel Group, D'Iberville
The 2009 SBA Mississippi Small Business Awards Reception is made available through the support of Northrop Grumman Corporation. Small business entrepreneurs, business advocates, and public citizens are encouraged to attend the event and support Mississippi's best.
There is no cost to attend, however, seating is limited. Please RSVP by Friday, June 12th to the SBA Mississippi District Office at (601) 965-4378, ext. 11 or 18 or email [e-mail missing] or [e-mail missing].